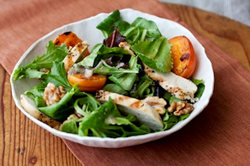 Knoxville, TN (PRWEB) June 17, 2014
Gardens are blooming, fresh markets are open and fruits and vegetables are available in abundance, so it is no surprise that National Fruit and Vegetable month is celebrated in June. As with a variety of lifestyle factors including exercise and sleep patterns, nutrition greatly impacts mental health.
Fruits and vegetables are rich in essential vitamins and minerals, but for many reasons it can be hard to consume the recommended daily intake of vegetables. This leads to a lack of essential vitamins and minerals that support mental and emotional health. To help combat the vegetable deficiency frequently found in clients with mental health and substance abuse issues, Brookhaven Retreat will observe National "Eat Your Veggies" Day on June 17.
Green vegetables such as broccoli and spinach are rich in the nutrient folate, while mushrooms are a good source of vitamin D. Studies found that low levels of these nutrients are risk factors for depression. According to researchers in the UK, people who ate higher amounts of vegetables displayed less anxiety and depression and were overall happier than those who ate fewer servings.
Vitamin deficiency is not only a risk factor for mental health issues, it can also result from long-term substance abuse. Thiamine deficiency is common in alcohol addiction. Incorporating more thiamine-rich green peas, squash and asparagus helps increase energy levels and decrease irritability.
At Brookhaven Retreat, the nutritional team finds creative ways to integrate the recommended amount of vegetables into the menu. Using vegetables from the client planted garden is an excellent way to introduce fresh vegetables to its gourmet cuisine. The dietitian also leads a juicing class that pairs vegetables with fruits and herbs to create healthy juices and smoothies.
Along with the right medications and therapy, getting the proper nutrition is an important part of overall wellness. Throughout the month of June, Brookhaven Retreat will continue to encourage women to adopt healthy nutritional choices as part of their mental health and addiction recovery.
About Brookhaven Retreat
Brookhaven Retreat is a women's treatment center nestled on a naturally beautiful 48-acre site secluded in the foothills of the Great Smoky Mountains. It has helped hundreds of women across the United States overcome depression, trauma, anxiety, substance use and a range of other behavioral health challenges. Brookhaven's Founder, Jacqueline Dawes, has predicated its gender-specific treatment on "healing emotional breakage" for women. In this way, she has established a sanctuary and a place where women can feel safe, secure and cared for by a staff of highly trained professionals.