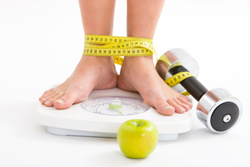 Knoxville, TN (PRWEB) February 26, 2014
February 24-28th is National Eating Disorders Association Week 2014. Hosted by the National Eating Disorders Association, this week aims to spread awareness around eating disorders. According to NEDA, 20 million women in the United States suffer from an eating disorder at some point in their life. Brookhaven Retreat recognizes disordered eating can result from emotional breakage.
Disordered eating arises from a combination of behavioral, emotional and psychological factors and can be serious and life-threatening. Anorexia nervosa, bulimia nervosa and binge eating disorders are the most common types of eating disorders, however, an unhealthy relationship with food comes in many forms.
Eating disorders are often case a secondary symptom of another mental illness. Studies have shown depression, anxiety, addiction and bipolar disorder can influence the evolution of eating disorders. Women suffering from low self-esteem and negative body image have a much higher risk of developing anorexia, bulimia and binge eating. Stressful and life changing traumas can also trigger eating disorders. When a woman cannot verbally express overwhelming emotions, food is used to feel in control of those feelings.
Addressing the underlying cause or causes that prompt disordered eating is fundamental to a woman's overall healing process. Through her healing journey a woman can better understand the trauma and how these events impacted her life and her sense of self-worth.
Brookhaven Retreat provides the skills women need to cope with emotional breakage that has halted the ability to develop a normal emotional systems of coping, as well as life management techniques to empower women and encourage self-esteem, positive body image and self-value.
About Brookhaven Retreat
Brookhaven Retreat is a women's treatment center nestled on a naturally beautiful 48-acre site secluded in the foothills of the Great Smoky Mountains. It has helped hundreds of women across the United States overcome depression, trauma, anxiety, substance use and a range of other behavioral health challenges. Brookhaven's Founder, Jacqueline Dawes, has predicated its gender-specific treatment on "healing emotional breakage" for women. In this way, she has established a sanctuary and a place where women can feel safe, secure and cared for by a staff of highly trained professionals.