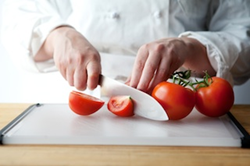 Knoxville, TN (PRWEB) November 12, 2014
Brookhaven Retreat's dietitian, Charity Bialik, RD, and head chef, Jeremy Crow, will attend the 24th Annual Renfrew Center Foundation Eating Disorders Conference for Professionals, November 14-16 in Philadelphia.
The Renfrew Conference is recognized as one of the top eating disorder conferences in America, where experts within the dietary field host captivating discussions, and offer extensive networking opportunities. Attended by practitioners in all fields, this diverse conference offers an in-depth look at clinical processes and unique food related problems.
The conference hosts a variety of highly skilled keynote speakers and panelists that will explore biological factors, therapeutic approaches and review complex cases to review and emphasize thorough and professional standards of care.
Brookhaven Retreat views disordered eating as a sign of underlying mental health issues that manifest themselves as an unhealthy relationship with food and the body. Women with these issues often have low self-esteem and struggle with mood disorders such as depression.
Brookhaven Retreat focuses on rebuilding self-esteem and equipping women with essential tools to live healthy lives. As part of establishing a healthy relationship with food, women integrate therapeutic skills such as mindfulness into their eating habits, allowing women to feed their bodies based on internal signs rather than harsh restrictions.
Charity and Jeremy help women create individualized nutritional maps that are then combined with comprehensive therapeutic modalities, to provide the tools women need to overcome the destructive mental health problems that have harmed them both physically and emotionally.
About Brookhaven Retreat
Brookhaven Retreat is a women's treatment center nestled on a naturally beautiful 48-acre site secluded in the foothills of the Great Smoky Mountains. It has helped hundreds of women across the United States overcome depression, trauma, anxiety, substance use and a range of other behavioral health challenges. Brookhaven's Founder, Jacqueline Dawes, has predicated its gender-specific treatment on "healing emotional breakage" for women. In this way, she has established a sanctuary and a place where women can feel safe, secure and cared for by a staff of highly trained professionals.