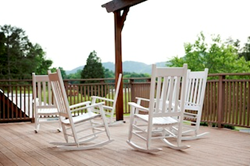 Knoxville, TN (PRWEB) March 25, 2014
This April, Brookhaven Retreat celebrates its 8th year of service to women recovering from mental health and substance abuse issues.
Since 2006 Brookhaven Retreat has given women a second chance to redesign their life. Women are taught coping skills, emotional regulation and how to realign their life. Its revolutionary 90 day Poncho® and Lily programs can be broken in to 30 day segments that focus on stabilization, awakening and growth.
Licensed clinical social worker and primary therapist, Carrie Fair has experienced the growth of these women first hand.
"During my time at Brookhaven Retreat I have witnessed the miracle of change. I have seen many women walk through the door, lost, hopeless and broken," states Carrie. "Through hard and sometimes painful self-exploration, I have also seen them walk out with the skills necessary to build a life worth living,"
As Brookhaven Retreat ages, technology, programs and policies evolve with it. This dynamic nature is reflective of the high quality of care provided.
Human Resource Administrator Diane Dixon states, "As an employee, I have seen Brookhaven Retreat change in many areas, growing in a new and dynamic direction, giving its employees an opportunity to be a part of something exciting. The changes bring a new invigorating energy to Brookhaven."
Brookhaven Retreat is looking forward to another year filled with growth and achievement; providing high quality, comprehensive treatment and education to women searching relief from mood disorders, emotional breakage and substance abuse issues.
About Brookhaven Retreat
Brookhaven Retreat is a women's treatment center nestled on a naturally beautiful 48-acre site secluded in the foothills of the Great Smoky Mountains. It has helped hundreds of women across the United States overcome depression, trauma, anxiety, substance use and a range of other behavioral health challenges. Brookhaven's Founder, Jacqueline Dawes, has predicated its gender-specific treatment on "healing emotional breakage" for women. In this way, she has established a sanctuary and a place where women can feel safe, secure and cared for by a staff of highly trained professionals.