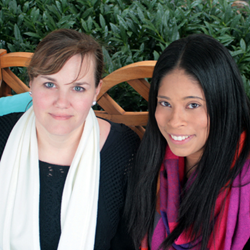 Knoxville, TN (PRWEB) February 04, 2016
Brookhaven Retreat LLC, a unique residential treatment facility exclusively for women with mental health and/or substance abuse issues, congratulates Primary Therapists Marlaina Kincaid and Lana Wilcox for completing the EMDR Advanced Clinical Workshop at The Open Center in New York, Jan. 27-31, 2016.
The Eye Movement Desensitization and Reprocessing (EMDR) workshop and refresher course was the third in a series of three workshops. The recent session held at The Open Center in New York was facilitated by Dr. Laurel Parnell, internationally recognized clinical psychologist, author, consultant and EMDR trainer. She is the author of five books on EMDR, Attachment Focused EMDR.
EMDR is a form of therapy founded by Francine Shapiro in 1987 and is most effective in treating clients suffering from the aftereffects of trauma. EMDR uses both sides of the brain simultaneously to effectively reprocess traumatic events and reduce their emotional impact. For instance, women who have experienced a traumatic event such as divorce, sexual abuse, or war, may struggle with posttraumatic stress disorder (PTSD) marked by intense nightmares and distressing flashbacks that make them feel as though they are reliving the experience.
PTSD often co-occurs with depression and substance abuse, which complicates the natural recovery process. These symptoms can be debilitating and disrupt a woman's daily life, as well as hinder any therapeutic progress.
"Exploring relationships, places and thoughts may become too painful, causing women to hold back instead of uncovering the underlying issues," says Marlaina Kincaid, who earned her master's degree in Counseling Psychology from Capella University, is currently working on her Ph.D. in Industrial Organizational Psychology as well as licensure and credentialing as an LPC/MHSP.
Kincaid has spent the last 10 years working in the mental health field with experience in residential, inpatient, and outpatient facilities providing expertise to children, adolescents and adults. Women with PTSD may feel as though their lives contain no hope. Such thoughts can lead to self-injury or suicide, making proper treatment for these painful memories critical to their safety and well-being.
"EMDR works quickly to ease painful memories so they cease to cause emotional stress," says Lana Wilcox, who received her Master of Science in Mental Health Counseling from the University of Tennessee and is currently a Licensed Professional Counselor and Mental Health Service Provider in the state of Tennessee. As an Individual, Family, and Group Therapist, she has more than five years of experience including residential, outpatient, intensive outpatient, community, and private sector treatment working with clients with a dual diagnoses, substance abuse, and trauma background.
About Brookhaven Retreat
Brookhaven Retreat is a women's treatment center nestled on a naturally beautiful 48-acre site secluded in the foothills of the Great Smoky Mountains. It has helped hundreds of women across the United States overcome depression, trauma, anxiety, substance use and a range of other behavioral health challenges. Brookhaven's Founder, Jacqueline Dawes, has predicated its gender-specific treatment on "healing emotional breakage" for women. In this way, she has established a sanctuary and a place where women can feel safe, secure and cared for by a staff of highly trained professionals.