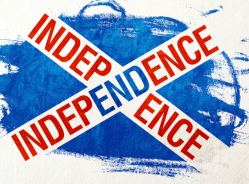 Knoxville, TN (PRWEB) September 24, 2014
On September 18, Scotland was faced with a historical referendum; a choice between staying unified with the UK or seeking its own independence. While the people of Scotland remain divided on national independence, the women of Brookhaven Retreat remain united on the importance of establishing emotional independence.
To better understand emotional independence, it is easier to define its opposite: emotional dependence. A woman who is emotionally dependent allows others' to influence her feelings, thoughts and emotions; for example, her happiness is reliant upon others' happiness. This is often referred to as co-dependency and can leave women feeling powerless, anxious and depressed.
Every woman wants to feel in control of her own emotions and independent to live the life she desires. To do so, women must learn various life skills that empower and advance self-sufficiency.
Women with emotional dependency issues often arrive at Brookhaven Retreat broken and adrift. During their stay they work with their primary therapist to design a custom treatment plan that addresses each woman's exclusive needs and life experiences. They learn to set boundaries, practice self-care and find satisfaction in their own accomplishments.
Brookhaven Retreat specializes in the unique needs and wants of women. The all-female facility creates a nurturing environment that expands the therapeutic roles far beyond the inside of a therapy room. Within its 50 beautiful acres, Brookhaven Retreat utilizes various experiential therapy modules such as ropes course, equine-assisted therapy and group activities to effectively build interpersonal skills, empowerment and self-assurance.
Once she breaks the cycle of co-dependency, emotional independence can be found. Brookhaven Retreat is dedicated to helping women who have lost their sense of self to discover those individual passions, characteristics and confidence that foster enduring emotional control and lasting mental health.
About Brookhaven Retreat
Brookhaven Retreat is a women's treatment center nestled on a naturally beautiful 48-acre site secluded in the foothills of the Great Smoky Mountains. It has helped hundreds of women across the United States overcome depression, trauma, anxiety, substance use and a range of other behavioral health challenges. Brookhaven's Founder, Jacqueline Dawes, has predicated its gender-specific treatment on "healing emotional breakage" for women. In this way, she has established a sanctuary and a place where women can feel safe, secure and cared for by a staff of highly trained professionals.