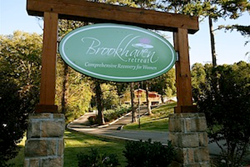 Knoxville, TN (PRWEB) March 12, 2014
On March 7, Brookhaven Retreat celebrated all of its employees for Employee Appreciation Day. Staff enjoyed cookies and sweets as a thank you for their efforts in making Brookhaven Retreat a unique place and offering help and recovery to women for years to come.
Employee Appreciation Day is an opportunity for employers to express gratitude to all staff who contribute to the organization. Brookhaven Retreat's owner and founder Jacqueline Dawes knows the importance of recognizing employees. "Our staff are our stars, we just want them to shine," Dawes said.
To show her appreciation, Dawes prepared lunch and arranged five cookie bouquets to be delivered for all the staff on site. Bundles of balloons were placed throughout employee offices, break rooms and common areas.
Superior care is essential at Brookhaven Retreat, and could not be achieved without quality workers. "The skill and dedication of our staff forms the foundation for the extraordinary level of care we provide," Human Resource Administrator Jessica Wirth stated. "We support their compassion and knowledge through exceptional training opportunities and an encouraging atmosphere."
Brookhaven Retreat wants to recognize each individual for their contributions that impact both clients and staff. Thanks to efforts from the entire team, Brookhaven Retreat is able to provide quality care for women with mental health and substance abuse issues.
About Brookhaven Retreat
Brookhaven Retreat is a women's treatment center nestled on a naturally beautiful 48-acre site secluded in the foothills of the Great Smoky Mountains. It has helped hundreds of women across the United States overcome depression, trauma, anxiety, substance use and a range of other behavioral health challenges. Brookhaven's Founder, Jacqueline Dawes, has predicated its gender-specific treatment on "healing emotional breakage" for women. In this way, she has established a sanctuary and a place where women can feel safe, secure and cared for by a staff of highly trained professionals.