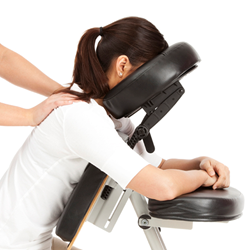 Knoxville, TN (PRWEB) July 16, 2015
Brookhaven Retreat ® LLC will celebrate National Everybody Deserves a Massage Week July 18 to 24 with the inception of a new massage chair.
Stephanie Christian, LMT, RYT, the licensed bodywork therapist on staff at Brookhaven Retreat, has been practicing massage therapy for 10 years. Although clients regularly receive a reflexology treatment, the new massage chair will offer many more opportunities for clients to receive stress-relieving treatments with emphasis on the upper body where tension is often stored.
Christian, who holds certifications in Reflexology, Shiatsu, Therapeutic Touch, and Craniosacral Therapy, has a passion for understanding stress and its impact on the body. "Bodywork is essential for mental and physical health," she says. "The reflex zones of the ears, hands and feet correspond to the organ systems that get blocked with anxiety and tension. The idea is to clear blockages and encourage energy and blood flow through the entire body. The way it works mentally is by inspiring clients to focus inward, which is important in the process of detoxification. With enough treatments, the client can achieve mental health and overall wellness."
The staff at Brookhaven Retreat recognizes reflexology and bodywork not as luxuries or beauty treatments, but rather as the opportunity for reducing muscle aches, stress, anxiety, headaches, sleep disorders, improving immune system strength, flexibility, digestion, increasing blood flow and mental clarity.
For clients with trust issues, the massage chair along with the initial reflexology treatment is a good place to introduce bodywork as a non-threatening hands-on modality. "Not everyone is comfortable being touched," Christian said. "Reflexology and the massage chair is a completely non-threatening experience and is grounding."
The release of tension and stress is especially helpful for clients as they begin their journeys at Brookhaven Retreat. "Our program is designed to assist women who have suffered and struggled with their mental and physical well-being, in creating a life worth living," says Jacqueline Dawes, founder of Brookhaven Retreat. "Bodywork helps clients become more grounded and mindful, which improves every aspect of their lives."
About Brookhaven Retreat
Brookhaven Retreat is a women's treatment center nestled on a naturally beautiful 48-acre site secluded in the foothills of the Great Smoky Mountains. It has helped hundreds of women across the United States overcome depression, trauma, anxiety, substance use and a range of other behavioral health challenges. Brookhaven's Founder, Jacqueline Dawes, has predicated its gender-specific treatment on "healing emotional breakage" for women. In this way, she has established a sanctuary and a place where women can feel safe, secure and cared for by a staff of highly trained professionals.