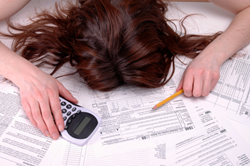 Knoxville, TN (PRWEB) April 15, 2014
As spring inches forth, so does inevitable tax season. On April 15, every individual income tax return must be sent in to the federal government to end the agonizing chore that has claimed the first quarter of the year - taxes. Keeping up with finances can be overwhelming and heighten stress levels. Money troubles can both precede or follow mental health and substance abuse issues.
Roughly 30 percent of people in poverty report depression, according to a 2011 Gallup poll, and nearly 86 percent of people with notable debt problems struggle with a mental health disorder. Money troubles and loss of a job are both listed on the top ten triggers for depression. Anxiety, depression and compulsive disorders are three factors and consequences of mental health issues.
Compulsive spending is a serious problem that has the ability to lead people into debt and financial strain. These spenders shop because they feel an emotional high from it, providing fleeting relief from depression and anxiety. Compulsive spending is in the same family as compulsive gambling. Both of these compulsions can lead to financial woes, worsening emotional distress.
Anxiety caused by debt can interfere in a woman's decision to actually manage her money troubles. Instead of actively taking steps to become financially stable, women may rely on unhealthy coping and problem-solving skills including avoidance, substance abuse and potentially more compulsive behavior.
Brookhaven Retreat focuses on addressing the emotional and mental reasons at the core of poor money management. Women are taught how to budget their spending and manage their finances. The Poncho® Program, exclusive to Brookhaven Retreat, utilizes a financial action plan help women reach financial security and responsibility.
Whether it's budgeting a small income or managing large amounts of money, figuring out how to handle money is critical to getting mental health back on track. Money problems can cause strain on relationships and personal health. In order to restructure life, women must learn to manage personal finances and control compulsive behaviors.
About Brookhaven Retreat
Brookhaven Retreat is a women's treatment center nestled on a naturally beautiful 48-acre site secluded in the foothills of the Great Smoky Mountains. It has helped hundreds of women across the United States overcome depression, trauma, anxiety, substance use and a range of other behavioral health challenges. Brookhaven's Founder, Jacqueline Dawes, has predicated its gender-specific treatment on "healing emotional breakage" for women. In this way, she has established a sanctuary and a place where women can feel safe, secure and cared for by a staff of highly trained professionals.