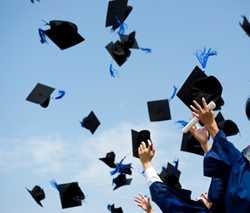 Knoxville, TN (PRWEB) April 24, 2014
As April comes to an end and May arrives, intermediate, high school and college graduations are on the horizon. From the parents who watched their child grow, to the college student stepping out on their own, graduation impacts everyone involved.
Although it is normal to be sad and anxious while watching children mature and start their own lives, negative feelings that last for long periods of time, or are accompanied by substance abuse, may be more than the normal "Empty Nest Syndrome."
After children graduate high school or college, many parents begin to experience feelings of sadness, depression and loss. Major life changes such as a child leaving home can be difficult to cope with, especially for women already suffering from mental health disorders. This uncontrollable grief may lead to strained marriages, depression and increases the risk of relying on alcohol and drug use for alleviating undesirable emotions.
On the other hand, graduation can be a difficult time for the children as well. Starting at a new school, leaving behind friends and looking for a job may result in anxiety, stress and depression. Studies show that changing schools is associated with an increased risk of psychosis in adolescence.
In many cases, college graduation symbolizes the first time children are on their own. This can trigger anxiety for both parents and the graduate. The immense pressure of transitioning into adulthood, finding a job and moving away, can be overwhelming for many.
Major life events and changes, even expected ones, can be challenging and overwhelming. Brookhaven Retreat works with women struggling to cope with these changes by altering their negative thoughts and establishing healthy coping habits. To do so, women are exposed to a variety of therapies including psychotherapy, cognitive behavioral therapy and family therapy.
Change is an inevitable part of life, and the ability to embrace it comes with skill and practice. Women at Brookhaven Retreat are given the tools necessary to welcome life's transitions and build a life worth living.
About Brookhaven Retreat
Brookhaven Retreat is a women's treatment center nestled on a naturally beautiful 48-acre site secluded in the foothills of the Great Smoky Mountains. It has helped hundreds of women across the United States overcome depression, trauma, anxiety, substance use and a range of other behavioral health challenges. Brookhaven's Founder, Jacqueline Dawes, has predicated its gender-specific treatment on "healing emotional breakage" for women. In this way, she has established a sanctuary and a place where women can feel safe, secure and cared for by a staff of highly trained professionals.