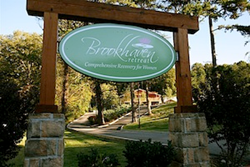 Knoxville, TN (PRWEB) June 19, 2014
On Friday, June 20 staff at Brookhaven Retreat will have the opportunity to participate in training on the new graphic standards. The training will teach staff members the proper use of Brookhaven Retreat's brand identity throughout all aspects of care.
It is crucial that Brookhaven Retreat establish a clear and cohesive visual identity, and that all staff adhere to these graphic standards in order to properly represent Brookhaven Retreat's mission to provide high-quality, comprehensive treatment and education to women and their families.
A recognizable, consistent and professional image communicates the superior level of treatment and understanding that Brookhaven Retreat delivers to women with mental health and substance abuse issues.
Employees from all departments will participate in the graphic standards training on June 20 to learn how to preserve Brookhaven Retreat's values through each document created. As new employees join the Brookhaven Retreat team, they will subsequently receive training as part of the orientation process.
It is important for Brookhaven Retreat to create a first impression that inspires the courage, confidence and truth necessary to build a life worth living.
A distinguished and consistent use of Brookhaven Retreat's identity promotes its uniqueness, and the excellent level of care its medical and clinical team provide. As an organization that recognizes the importance of attention to detail, Brookhaven Retreat is excited to have staff that is dedicated to its goal of representing high quality service and distinct care throughout all aspects of treatment.
About Brookhaven Retreat
Brookhaven Retreat is a women's treatment center nestled on a naturally beautiful 48-acre site secluded in the foothills of the Great Smoky Mountains. It has helped hundreds of women across the United States overcome depression, trauma, anxiety, substance use and a range of other behavioral health challenges. Brookhaven's Founder, Jacqueline Dawes, has predicated its gender-specific treatment on "healing emotional breakage" for women. In this way, she has established a sanctuary and a place where women can feel safe, secure and cared for by a staff of highly trained professionals.