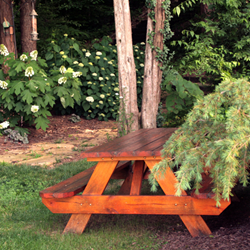 Knoxville, TN (PRWEB) June 18, 2015
Brookhaven Retreat offers a unique voluntary residential program of mental health and substance abuse services designed to help women overcome depression, trauma, anxiety, personality disorders, and substance dependence among other diagnoses. This month, staff and clients will observe Great Outdoors Month with nature walks on the beautifully manicured grounds and other outdoor activities such as gardening.
Founder of Brookhaven Retreat, Jacqueline Dawes, recognizes fresh air and physical activity as a vital part of The Lily Program® , a 90-day individualized mental health treatment program offered exclusively at Brookhaven Retreat.
On June 18, Brookhaven Retreat's on-staff photographer will take photographs of the grounds to include in the weekly newsletter and Aftercare site, inviting staff, clients and anyone who may be considering Brookhaven Retreat, to appreciate it as a beautiful place to recover and heal.
Garden Therapy is one of the many components of the program, according to Dawes who uses gardening as a powerful tool for well-being. She says, "Gardening is an opportunity to be outside, enjoy the sunshine and release stress. We have found that spending time in the open air speeds recovery from mental health and substance abuse issues."
Participants of The Lily Program may choose whether they prefer to tend the garden independently or as part of a communal project. "Gardening has been shown to reduce levels of depression and anxiety, and promote positive thoughts, energy and tranquility," Dawes adds.
Caring for plants also encourages mindfulness, a skill used in regulating emotions. Women at Brookhaven Retreat may also provide input about the types of plants to go into the garden, as well as the type of food that is prepared from the fruits of their labor. The garden therefore also enhances the menu at Brookhaven Retreat with fresh ingredients.
About Brookhaven Retreat
Brookhaven Retreat is a women's treatment center nestled on a naturally beautiful 48-acre site secluded in the foothills of the Great Smoky Mountains. It has helped hundreds of women across the United States overcome depression, trauma, anxiety, substance use and a range of other behavioral health challenges. Brookhaven's Founder, Jacqueline Dawes, has predicated its gender-specific treatment on "healing emotional breakage" for women. In this way, she has established a sanctuary and a place where women can feel safe, secure and cared for by a staff of highly trained professionals.