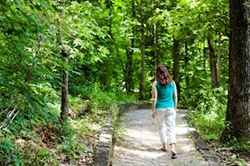 Knoxville, TN (PRWEB) June 12, 2014
June is Great Outdoors Month. This campaign, sponsored by the American Recreation Coalition, was established in an effort to raise awareness of the important role nature plays promoting emotional and mental wellness.
Therapy for the mind, body and spirit is not confined to the inside of a room. Brookhaven Retreat sits on 50 vast acres at the base of the Smoky Mountains, which allows for a diverse range of outdoor activities.
Much research has gone into discovering the benefits of nature on mental health. Science has found that spending time outdoors improves self-esteem and reduces symptoms of depression and stress. Those connected with nature recover from illnesses quicker and show an increased energy level.
Mindful walking is not only an enjoyable time spent with nature, it is also therapeutic. A study by the University of Essex found that mindful walking in nature lowered depression scores in 71 percent of people surveyed. Other low-intensity outdoor activities including gardening and the ropes course stimulate creativity, patience, self-awareness and trust. Team sports like badminton and volleyball build a support system and a chance to practice interpersonal skills they learn in treatment.
There is no one tool that works for everyone, so in order to meet the needs of each client Brookhaven Retreat utilizes a variety of therapeutic avenues, including time spent in nature. During the summer month of June, it will continue to encourage outdoor activities and therapies as a vital component of stimulating and maintaining good mental health.
About Brookhaven Retreat
Brookhaven Retreat is a women's treatment center nestled on a naturally beautiful 48-acre site secluded in the foothills of the Great Smoky Mountains. It has helped hundreds of women across the United States overcome depression, trauma, anxiety, substance use and a range of other behavioral health challenges. Brookhaven's Founder, Jacqueline Dawes, has predicated its gender-specific treatment on "healing emotional breakage" for women. In this way, she has established a sanctuary and a place where women can feel safe, secure and cared for by a staff of highly trained professionals.