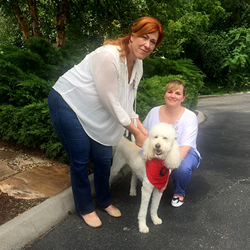 Knoxville, TN (PRWEB) July 29, 2015
Brookhaven Retreat ® LLC recently became registered with HABIT (Human-Animal Bond in Tennessee), a pet therapy program comprised of representatives from the University of Tennessee College of Veterinary Medicine, volunteers from the community, and private veterinary practitioners.
The program fosters pet visitation to professional medical settings such as rehabilitation facilities, nursing homes, hospitals, assisted-living residences, and retirement centers, to name a few. They also offer resources such as trained volunteers, medically and behaviorally screened animals, and guidance regarding pet visitation, program development, and evaluation.
Established in 1986, the group explores the circumstances and consequences of the human-animal bond and to promote this valuable bond between people and animals. Currently, HABIT has more than 400 members and 70 different programs. We credit our success to the efforts and commitment of our volunteers.
Bella, Brookhaven Retreat's own labradoodle, whose owner is Jacqueline Dawes, Brookhaven Retreat's founder, has also been approved to provide pet therapy to clients of the facility.
Dawes is a strong proponent of the human-animal bond. According to the National Center for Health Research (NCHR), more than 71 million American households (62%) have a pet, and most people think of their pets as members of the family. Research studies have found that people who have a pet have healthier hearts, stay home sick less often, make fewer visits to the doctor, get more exercise, and are less depressed. Pets may also have a significant impact on allergies, asthma, social support, and social interactions with other people.
"Everyone loves Bella, but now that she is registered with HABIT, she will be a bona fide therapeutic pet that clients can enjoy while they're here," Dawes added. "Animals provide unconditional love that can ease feelings of depression and anxiety. It's hard not to feel a sense of peace and calm when you're petting an animal who responds to your kindness."
About Brookhaven Retreat
Brookhaven Retreat is a women's treatment center nestled on a naturally beautiful 48-acre site secluded in the foothills of the Great Smoky Mountains. It has helped hundreds of women across the United States overcome depression, trauma, anxiety, substance use and a range of other behavioral health challenges. Brookhaven's Founder, Jacqueline Dawes, has predicated its gender-specific treatment on "healing emotional breakage" for women. In this way, she has established a sanctuary and a place where women can feel safe, secure and cared for by a staff of highly trained professionals.