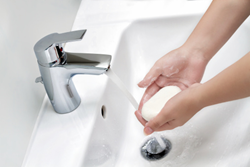 Knoxville, TN (PRWEB) December 04, 2014
The Center for Disease Control and Prevention (CDC) touts December as the beginning of the much dreaded flu season. In an effort to minimize the spread of the Flu virus, December 7-13 is National Handwashing Awareness Week, and during this time Brookhaven Retreat will focus on bringing awareness to the importance of its hand washing procedures.
According to the CDC, correct hand washing technique is the most effective method to prevent the spread of infectious diseases. Brookhaven Retreat is a small community with approximately 3 to 1 staff to client ratio that allows for constant interaction; therefore preventing the spread of any virus is a critical component of Brookhaven Retreat's infection control.
Each month, the Infection Control Committee is task with implementing effective procedures that prevent the spread of any contagious illness. Practicing correct hand washing is one of the easiest and most fundamental prevention methods.
Brookhaven Retreat's effort to keep clients healthy and safe does not end with washing hands. Placement of hand sanitizing stations throughout the facility; latex glove use when handling any type of biohazard material; daily sanitization of door knobs and communal spaces and a recommendation of flu vaccinations are key components in infectious disease prevention.
When a woman's physical health is compromised her mental health recovery becomes more vulnerable. Brookhaven Retreat is dedicated to providing the highest quality care to women's emotional, mental and physical health.
During the week of December 7-13 Brookhaven Retreat staff will be reminded of hand washing awareness and the procedures put in place to maintain a healthy and safety environment as part of Brookhaven Retreat's larger efforts to provide healing and recovery for women.
About Brookhaven Retreat
Brookhaven Retreat is a women's treatment center nestled on a naturally beautiful 48-acre site secluded in the foothills of the Great Smoky Mountains. It has helped hundreds of women across the United States overcome depression, trauma, anxiety, substance use and a range of other behavioral health challenges. Brookhaven's Founder, Jacqueline Dawes, has predicated its gender-specific treatment on "healing emotional breakage" for women. In this way, she has established a sanctuary and a place where women can feel safe, secure and cared for by a staff of highly trained professionals.