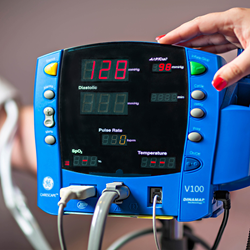 Knoxville, TN (PRWEB) May 17, 2016
Brookhaven Retreat ® LLC, a unique residential treatment facility exclusively for women with mental health and/or substance abuse issues, shares tips about how to reduce stress and anxiety, which can cause high blood pressure, during National High Blood Pressure Month and National Stroke Awareness Month in May.
High blood pressure is a common disease in which blood flows through blood vessels (arteries) at higher than normal pressures, says the National Heart, Lung, and Blood Institute (NIH). Blood pressure is the force of blood pushing against the walls of the arteries as the heart pumps blood. High blood pressure, also known as hypertension, occurs when the force is too high.
"Normal blood pressure for adults is defined as a systolic pressure below 120 mmHg and a diastolic pressure below 80 mmHg," explains the NIH website. "It is normal for blood pressures to change when you sleep, wake up, or are excited or nervous. When you are active, it is normal for your blood pressure to increase. However, once the activity stops, your blood pressure returns to your normal baseline range."
Although anyone at any age can develop high blood pressure, certain factors like age, race or ethnicity, weight, gender, lifestyle habits, and a family history of high blood pressure can indicate greater risk. The older we get, the more blood pressure tends to rise. According to the NIH, about 65 percent of Americans age 60 or older have high blood pressure.
One of the effects of high blood pressure is stroke, the fifth leading cause of death in the U.S. and a major cause of adult disability, says Million Hearts®, a national initiative with an ambitious goal to prevent 1 million heart attacks and strokes by 2017. On average, one American dies from stroke every 4 minutes. But in many cases, strokes are preventable and treatable.
Here are some tips to help prevent high blood pressure, which can lead to strokes:

Take Aspirin only when appropriate (ask your doctor).
Be aware of your blood pressure levels.
Manage your cholesterol. Get regular check-ups and talk to your doctor about how to keep your cholesterol level down.
Don't smoke or use tobacco.
Don't drink alcohol.
Eat a healthy diet of as much fresh produce and whole foods as possible to maintain a healthy weight.
Be active every day possible. Listen to your body. If you're fatigued, increase your blood flow by walking.
Keep your stress and anxiety levels in check. Rest when you need to.
Get enough sleep.
"Managing stress and anxiety can be difficult because we're all faced with it every day," says Brookhaven Retreat's founder, Jacqueline Dawes. "It's easy to internalize issues, remain in denial, and maintain habits that create stress and anxiety, but there comes a point when it interrupts our ability to function well and to be healthy. That's one of the many reasons women seek our help. Our program is rooted in teaching mindfulness and self-care, which are essential in keeping ourselves calm, present in the moment, aware of our needs and capable of making sure they're met."
About Brookhaven Retreat
Brookhaven Retreat is a women's treatment center nestled on a naturally beautiful 48-acre site secluded in the foothills of the Great Smoky Mountains. It has helped hundreds of women across the United States overcome depression, trauma, anxiety, substance use and a range of other behavioral health challenges. Brookhaven's Founder, Jacqueline Dawes, has predicated its gender-specific treatment on "healing emotional breakage" for women. In this way, she has established a sanctuary and a place where women can feel safe, secure and cared for by a staff of highly trained professionals.