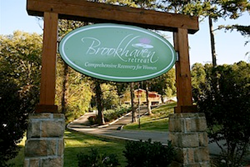 Knoxville, TN (PRWEB) May 22, 2014
Throughout the month of May, Brookhaven Retreat will continue its series of in-house trainings in an effort to provide the highest level of care possible for women seeking treatment for mental health disorders and co-occurring substance abuse.
On May 23, staff from all departments of Brookhaven Retreat, including both clinical and nonclinical staff and founder Jacqueline Dawes, will attend training at the Hilton Hotel in downtown Knoxville, Tenn.
Top consultants Scott Migdole and Dr. Jennifer Payne will lead the lecture and open discussion on mood disorders, nursing interviews, psychosocial interviews and medications. The training is hosted with the intent to educate all staff on the intricacies and duties performed by each department, as well as to refine talent in order to provide the very best treatment possible.
Part of an ongoing series of internal trainings, consultant-led lectures provide assurance that each department at Brookhaven Retreat, from the clinical team to administration, is working consistently with one another in order to best assist women in their journey to stability and recovery.
Since the start of Brookhaven Retreat nine years ago, ongoing education has been a top priority. Frequent trainings and educational opportunities that bring together Brookhaven Retreat's top professionals on staff and its consulting team allows for continual growth, refinement and quality care.
About Brookhaven Retreat
Brookhaven Retreat is a women's treatment center nestled on a naturally beautiful 48-acre site secluded in the foothills of the Great Smoky Mountains. It has helped hundreds of women across the United States overcome depression, trauma, anxiety, substance use and a range of other behavioral health challenges. Brookhaven's Founder, Jacqueline Dawes, has predicated its gender-specific treatment on "healing emotional breakage" for women. In this way, she has established a sanctuary and a place where women can feel safe, secure and cared for by a staff of highly trained professionals.