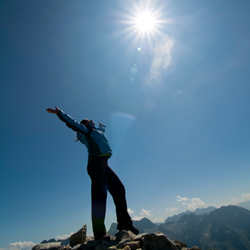 Knoxville, TN (PRWEB) July 01, 2015
Brookhaven Retreat® LLC, a unique residential treatment facility exclusively for women who seek guidance in managing mental or emotional challenges and or substance abuse issues, promotes emotional and mental sovereignty on Independence Day.
Brookhaven Retreat contends that July is the perfect time to declare your independence from whatever stands between you and accomplishing your goals. Independence Day is the perfect metaphorical day to take a stand for your personal rights within your own life, relationships, and career. It is a time to declare that your rights shall not be infringed upon and to establish your own power. "Self-ownership is the most basic right anyone can have," says Jacqueline Dawes, founder of Brookhaven Retreat. "The woman is sovereign over her mind and her body. Her independence is absolute. Brookhaven Retreat simply gives her the necessary tools to self-govern." Brookhaven Retreat supports empowering women to take control of their lives.
In recognition of Independence Day, Brookhaven Retreat offers these tips to help women assert independence in their lives by acting on a personal declaration of independence.
Immediate Steps You Can Take to Prepare For a Personal Declaration of Independence:
1. Acknowledge what is not working. Find the inconsistencies in obtaining your fullest expression of joy, career fulfillment, and life in general.
2. Declare a truce with unresolved areas of your life. Stop making yourself, anyone else, or the situation wrong. Stop placing blame. Commit to being at peace with your current situation.
3. Declare a fresh start, free from unworkable situations such as: spirit-killing relationships, mind-numbing career or work activities, and addictive habits, behaviors and outmoded beliefs.
Write Your Personal Declaration of Independence
Ask yourself the following question and write down your feelings, ideas, or thoughts in a formal declaration. Then, affirm yourself willingness to commit and take action to declare your independence.
1. Where am I experiencing a lack of joy or freedom in my life?
2. What am I willing to let go so I can free myself?
3. What actions am I willing to take to set myself free?
4. What commitments am I willing to make to set myself free?
5. Who can I ask for support and accountability to help me free myself?
Brookhaven Retreat is committed to empowering women suffering from emotional breakage and mental trauma through inpatient treatment for emotional and mental health challenges. The Lily Program® encourages independence by providing women with the tools they need to succeed in the recovery process. By setting clear and manageable goals within the six main life areas, the program contributes to successful long-term recovery through self-discovery and self-reliance.
About Brookhaven Retreat
Brookhaven Retreat is a women's treatment center nestled on a naturally beautiful 48-acre site secluded in the foothills of the Great Smoky Mountains. It has helped hundreds of women across the United States overcome depression, trauma, anxiety, substance use and a range of other behavioral health challenges. Brookhaven's Founder, Jacqueline Dawes, has predicated its gender-specific treatment on "healing emotional breakage" for women. In this way, she has established a sanctuary and a place where women can feel safe, secure and cared for by a staff of highly trained professionals.