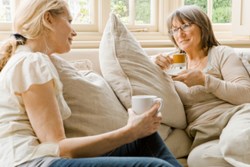 Knoxville, TN (PRWEB) January 07, 2014
Women receiving treatment for mental health and substance abuse issues suffer from a fragile emotional state and can be easily overwhelmed by the complexity of residential treatment. Because of this, Brookhaven Retreat plans to reinforce the importance of a one-on-one approach to care.
Women suffering from mood disorders, borderline personality disorders or substance abuse have often isolated from others and neglected themselves. Entering residential treatment, living among others, following a schedule, attending therapy and completing projects can be overwhelming to women. Brookhaven Retreat's individualized treatment program follows many steps to wellness. Close guidance and a caring approach helps women better acclimatize to the facility.
One of the first projects women complete at Brookhaven Retreat is a collage. Women are given an abundance of material and must select images that speak to their heart, whether the associated feelings are good, bad or neutral. Images are then divided into groups relating to her past, present or future, and integrated in a collage that is reflective of her emotional state. Women are often surprised at the resulting self-discovery.
A collage is one of many projects women embark upon during their first week at Brookhaven Retreat. Women also meet with a psychiatrist, therapists, dietitian; attend therapeutic and experiential groups; read books and participate in many other activities that guide them along the road to self-discovery. Brookhaven Retreat finds that it is through self-discovery that women recognize and overcome the emotional breakage underlying mental health and substance abuse issues.
Because of the complexity of its program and fragile emotional state of its clients, Brookhaven Retreat dedicates itself to a caring, individualized approach. Each woman receives the one-on-one care that puts her at ease and makes her feel as if she is at home amongst family.
In January, Brookhaven Retreat plans to reinforce the importance of this approach to its staff. It is a difficult step for a woman to leave everything she knows behind to receive treatment. With appropriate care and attention, women experience the comfort and hope vital to successful recovery.
About Brookhaven Retreat
Brookhaven Retreat is a women's treatment center nestled on a naturally beautiful 48-acre site secluded in the foothills of the Great Smoky Mountains. It has helped hundreds of women across the United States overcome depression, trauma, anxiety, substance use and a range of other behavioral health challenges. Brookhaven's Founder, Jacqueline Dawes, has predicated its gender-specific treatment on "healing emotional breakage" for women. In this way, she has established a sanctuary and a place where women can feel safe, secure and cared for by a staff of highly trained professionals.