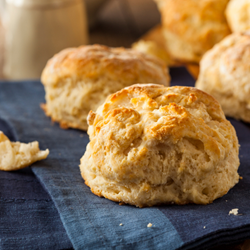 Knoxville, TN (PRWEB) May 20, 2015
Brookhaven Retreat® LLC, a unique residential treatment facility exclusively for women with emotional and mental health challenges, and/or substance abuse issues, celebrated International Baking Day with a stroll down Biscuit Boulevard while attending the International Biscuit Festival.
The International Biscuit Festival is a month long celebration held during the month of May in Knoxville, Tennessee, honoring the biscuit. The festival features art exhibits, writing conferences, bake offs, pageants, songwriting, biscuit tasting, and musical performances. Biscuit Boulevard, the street fair Brookhaven Retreat clients attended on Saturday, was the main course of the festival. Biscuit Boulevard celebrated everything biscuit with visitors tasting signature biscuits from more than 20 of the region's finest restaurants and bakers. Brookhaven Retreat clients were also treated to leisure time at the Biscuit Bazaar where biscuit related items were available for purchase.
Brookhaven Retreat strongly believes that recovery entails more than a therapy room and that daily living requires a solid foundation of interpersonal skills. Therefore, outings such as this are scheduled weekly to practice communication and social interaction skills as well as to provide enrichment opportunities to the clients. These therapeutic recreational opportunities are an essential part of the experiential program. Brookhaven Retreat recognizes the need for social interaction during the recovery process and encourages participation off campus events.
About Brookhaven Retreat
Brookhaven Retreat is a women's treatment center nestled on a naturally beautiful 48-acre site secluded in the foothills of the Great Smoky Mountains. It has helped hundreds of women across the United States overcome depression, trauma, anxiety, substance use and a range of other behavioral health challenges. Brookhaven's Founder, Jacqueline Dawes, has predicated its gender-specific treatment on "healing emotional breakage" for women. In this way, she has established a sanctuary and a place where women can feel safe, secure and cared for by a staff of highly trained professionals.