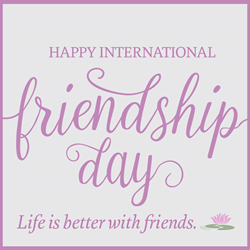 Knoxville, TN (PRWEB) August 02, 2016
Brookhaven Retreat®, LLC, a unique residential treatment facility exclusively for women with mental health and/or substance abuse issues, recognized International Friendship Day on July 30th by sharing 10 Tips for Being a True Friend.
International Friendship Day is recognized by the United Nations on July 30th. On this day, individuals, governments, civil groups, and international organizations are encouraged to promote the essential role that friendship has in promoting tranquility and happiness throughout the world.
As an all-women treatment facility there is an increased sense of safety and understanding that is impossible in a co-ed setting. As clients enter the program, a Lily Sister welcomes and introduces the program, and also offers support, guidance, and understanding. Many clients arrive at Brookhaven Retreat without ever having a true friendship, but most leave with a new found confidence and self-understanding. Having a supportive community and friendships allows for deep spiritual and emotional healing and promote companionships that share in struggles and insight.
As part of The Lily Program®, a 90-day treatment for women offered exclusively at Brookhaven Retreat, clients are encouraged to continually learn skills so that family and friend relationships can blossom and grow. It is important to have a true friend and support network that can be relied upon during difficult times, especially once returning home from treatment. Brookhaven Retreat offers an ongoing Aftercare Program in which clients are provided profound support once completing the program. The Aftercare Program offers weekly conference call hosted by a primary therapist, private aftercare program website, weekly e-blast, and a annual alumnae reunion held each spring.
Brookhaven Retreat recognized National Friendship Day by sharing "10 Tip on Being a True Friend."

Communicate and stay in touch
Make an effort to spend quality time together
Be supportive
Be a good listener and provide feedback
Be kind and truthful
Be yourself
Celebrate the 'wins' and support the 'losses' in life
Be understanding and compassionate
Make small gestures
Trust your friends and yourself
About Brookhaven Retreat
Brookhaven Retreat is a women's treatment center nestled on a naturally beautiful 48-acre site secluded in the foothills of the Great Smoky Mountains. It has helped hundreds of women across the United States overcome depression, trauma, anxiety, substance use and a range of other behavioral health challenges. Brookhaven's Founder, Jacqueline Dawes, has predicated its gender-specific treatment on "healing emotional breakage" for women. In this way, she has established a sanctuary and a place where women can feel safe, secure and cared for by a staff of highly trained professionals.