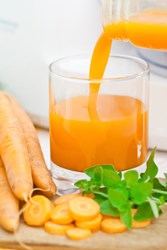 Knoxville, TN (PRWEB) October 23, 2013
Brookhaven Retreat's nutrition program introduces women to healthy eating habits that support proper brain and body function. In October, it adds twice-weekly juicing classes to its program to encourage women to include fruits and vegetables in their daily meals.
Food nourishes the body and brain. A woman's diet affects her brain function because nutrients consumed directly affect the body's ability to synthesize neurotransmitters, influencing energy levels, moods and thought processes.
A diet high in refined and processed foods is associated with an increased risk of depression and anxiety, Australian research shows. Increasing consumption of whole grains, fruits, vegetables and quality protein is associated with a more than 30 percent reduced risk of major depression and anxiety disorders. Despite this, the Indian Journal of Psychiatry reports that those suffering from depression frequently choose foods that aggravate mood disorder symptoms.
Women with alcohol addiction suffer nutritional deficiencies that affect both physical and mental health. Those living with mood disorders may neglect themselves and cease to cook, often causing similar nutritional deficiencies.
Carbohydrates, proteins and fats all play an important role in regulating brain health. A holistic approach to mental health includes a woman's dietary habits as one of many factors targeted in treatment. At Brookhaven Retreat, women work one-on-one and in groups with a registered dietitian to learn about the relationship between food and health. The dietitian helps women formulate a dietary plan that aids the recovery process and supports improved emotional health.
Juicing fruits and vegetables adds beneficial vitamins and minerals to a woman's diet. It is a delicious and easy way to extract nutrients from a wide variety of fresh fruits and vegetables. Because the skin and pulp is left behind, women must still consume whole fruits and vegetables for fiber and nutrition, but juice can provide nutrients from a wider array than could be consumed in a day. Brookhaven Retreat's twice-weekly juicing demonstrates how simple juicing can be, and encourages an easy habit women can take home to support wellness.
Because diet so directly affects a woman's mood and brain functions, informed food choices are critical to recovery from mental illness. Proper nutrition builds the foundation for recovery from mood disorders, substance abuse and other mental health issues. In October, Brookhaven Retreat urges all women to pay attention to their diet and its effect on their emotional and physical health, and to consider juicing as a source of additional nutrition.
About Brookhaven Retreat
Brookhaven Retreat is a women's treatment center nestled on a naturally beautiful 48-acre site secluded in the foothills of the Great Smoky Mountains. It has helped hundreds of women across the United States overcome depression, trauma, anxiety, substance use and a range of other behavioral health challenges. Brookhaven's Founder, Jacqueline Dawes, has predicated its gender-specific treatment on "healing emotional breakage" for women. In this way, she has established a sanctuary and a place where women can feel safe, secure and cared for by a staff of highly trained professionals.