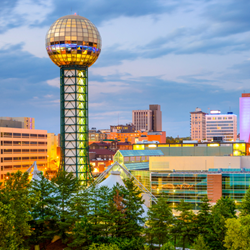 Knoxville, TN (PRWEB) September 24, 2015
Brookhaven Retreat® LLC, a unique residential treatment facility exclusively for women with emotional and mental health challenges, and/or substance abuse issues treated clients to a therapeutic outing to The Knoxville Sunsphere on Saturday, September 12, 2015.
The Knoxville Sunsphere, which represents the sun as a source of energy, was the theme structure for the 1982 World's Fair. The Sunsphere, a 266-foot steel tower topped with a five-story gold globe, still stands and remains a symbol for the city of Knoxville. In 2007, the East Tennessee Historical Society opened an exhibit commemorating the 25th anniversary of the World's Fair.
As part of The Lily Program®, a 90-day voluntary residential program offered exclusively at Brookhaven Retreat, regular recreational outings are considered experiential therapy. Women who enter the program for depression, trauma, anxiety, personality disorders, and substance dependence, to name a few diagnoses, have the opportunity to gain inspiration during therapeutic outings, and exercise the skills of mindfulness and other learned coping mechanisms.
The ultimate goal of Brookhaven Retreat is to offer a supportive and nurturing healing environment. The comprehensive treatment program includes a variety of clinical program modalities, beginning with the creation of a unique individualized treatment plan tailored specifically for each client.
As women progress through the program they move from an initial focus on gaining insight and working on past issues to a more present-centered, "here and now" focus.
Founder of Brookhaven Retreat, Jacqueline Dawes, says, "Women who come to us with willingness and the openness to discovering their inner strength, will relish in the process of rehabilitation. Eventually, they come to realize that they possess the capability of acquiring the tools they need to overcome whatever has been holding them back from true happiness."
Clients eventually shift to a more future-oriented focus as they begin to work on the ins and outs of staying well long-term. The Aftercare Program at Brookhaven Retreat offers several options for continued support of recovery once a client has left the facility.
"We do not feel that the completion of one's stay at Brookhaven is the completion of treatment," Dawes adds. "Our door is always open, and we want our alumnae to always feel that we are a continued source of support for them. We recommend that in addition to continuing therapeutic care on an outpatient basis, that each client also participate in Brookhaven Retreat's aftercare services."
About Brookhaven Retreat
Brookhaven Retreat is a women's treatment center nestled on a naturally beautiful 48-acre site secluded in the foothills of the Great Smoky Mountains. It has helped hundreds of women across the United States overcome depression, trauma, anxiety, substance use and a range of other behavioral health challenges. Brookhaven's Founder, Jacqueline Dawes, has predicated its gender-specific treatment on "healing emotional breakage" for women. In this way, she has established a sanctuary and a place where women can feel safe, secure and cared for by a staff of highly trained professionals.