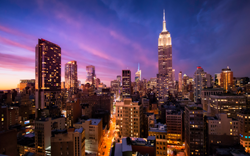 Knoxville, TN (PRWEB) March 10, 2015
Jacqueline Dawes, founder of Brookhaven Retreat, a residential treatment center for women with mental health and/or substance abuse issues, will attend The Linehan Institute Award Benefit as a platinum sponsor May 20 at the Midtown Loft in New York City. Co-hosted by the Department of Psychology at the University of Washington, the benefit will help raise funds for the advancement of mental health education, compassion and research.
Marsha Linehan, PhD, ABPP, a professor of psychology and adjunct professor of psychiatry and behavioral sciences at the University of Washington, developed Dialectical Behavior Therapy (DBT) to treat the most severe mental health disorders and suicidal behavior. Linehan, who founded The Linehan Institute, has dedicated her life to working with people whose lives are at risk from incapacitating psychological problems.
"It's because of Dr. Linehan's therapy," says Dawes, "that so many people have received compassionate and life-changing treatment for mental illness, and were able to arrive at the conclusion that their lives are worth living."
In clinical trials around the world, DBT has effectively treated Borderline Personality Disorder (BPD), substance dependence, depression, Post Traumatic Stress Disorder (PTSD), and eating disorders. Brookhaven Retreat will attend the benefit in support of those organizations and individuals being recognized for their significant contributions to fighting the stigma of mental illness and providing services to those in need.
Dawes will be accompanied by her associates, including Dr. Kelly Ownby, on-staff psychiatrist, Katherine Myers, and primary therapist at Brookhaven Retreat, as well as consultants Dr. Lynn Swisher, Dr. Jennifer Payne, and Scott Migdole.
For more information about the event, visit the Linehan Institute website, http://linehaninstitute.org/events.php.
About Brookhaven Retreat
Brookhaven Retreat is a women's treatment center nestled on a naturally beautiful 48-acre site secluded in the foothills of the Great Smoky Mountains. It has helped hundreds of women across the United States overcome depression, trauma, anxiety, substance use and a range of other behavioral health challenges. Brookhaven's Founder, Jacqueline Dawes, has predicated its gender-specific treatment on "healing emotional breakage" for women. In this way, she has established a sanctuary and a place where women can feel safe, secure and cared for by a staff of highly trained professionals.