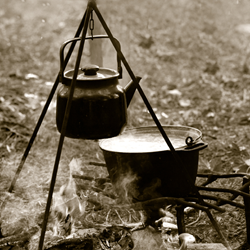 Knoxville, TN (PRWEB) February 23, 2016
Brookhaven Retreat® LLC, a unique residential treatment facility exclusively for women with emotional and mental health challenges, and/or substance abuse issues recently treated clients to a therapeutic outing to the Marble Springs State Historic Site in Knoxville, TN, followed by a trip to Hobby Lobby to purchase supplies for art projects.
As part of The Lily Program®, a 90-day program for women offered exclusively at Brookhaven Retreat, clients embark on diverse therapeutic trips as an opportunity for education, recreation and intellectual stimulation outside the Seymour Tennessee-based facility. Other recent therapeutic recreational outings have included visits to the University of Tennessee Botanical Gardens, the Mabry-Hazen House Museum, and the McClung Museum.
Marble Springs State Historic Site is the last remaining home of John Sevier, who was born in Virginia in 1745, and became a Revolutionary War Hero during the Battle of Kings Mountain (1780). He was also a key player and Governor of the short-lived State of Franklin (1784-1788), and ultimately was elected to serve as the first Governor of the State of Tennessee (1796).
Sevier lived on the 300-plus-acre farm during the last years of his life from 1801-1815. He named it Marble Springs for the Tennessee Rose Marble quarried on site and the natural springs that flowed on the property. Clients toured several historic structures designed to represent various aspects of Sevier's life and times, including the Tavern, Loom House, Smoke House, Spring House and the John Sevier Cabin and detached kitchen. The Marble Springs Trading Post offered unique gifts, books and educational toys designed to bring the 18th century into the present.
Brookhaven Retreat's founder Jacqueline Dawes cites the importance of being in touch with history and the outside world during treatment. "Clients benefit greatly from having experiences like this outside of treatment. The introduction to Tennessee's rich history is a bonus for anyone who has never been here before, and we make sure clients get a taste of it while they're here. Our mission is to help women navigate through their emotional difficulties and demonstrate skills that will be useful throughout the course of their lives now, and long after they leave us."
Upon completion of the 90-day program, the Aftercare program offers ongoing support long after a client has been discharged.
About Brookhaven Retreat
Brookhaven Retreat is a women's treatment center nestled on a naturally beautiful 48-acre site secluded in the foothills of the Great Smoky Mountains. It has helped hundreds of women across the United States overcome depression, trauma, anxiety, substance use and a range of other behavioral health challenges. Brookhaven's Founder, Jacqueline Dawes, has predicated its gender-specific treatment on "healing emotional breakage" for women. In this way, she has established a sanctuary and a place where women can feel safe, secure and cared for by a staff of highly trained professionals.