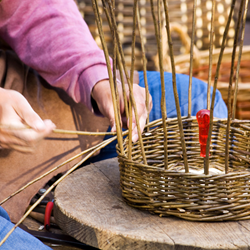 Knoxville, TN (PRWEB) May 12, 2016
Brookhaven Retreat® LLC, a unique residential treatment facility exclusively for women with emotional and mental health challenges, and/or substance abuse issues hosted a therapeutic outing to "Vestival," South Knoxville's Art & Heritage Festival, and Hobby Lobby on May 7.
Beginning in 2001, the rich heritage of the small town of Vestal and its surrounding communities was celebrated for its local marble, lumber, fertilizer and textile industries, as well as their farmers, craftsmen, and musicians. It became an annual event known as "Vestival," designed to keep the memory of Vestal and South Knoxville alive. Each year, "Vestival" is held on the grounds of the historic Candoro Marble Building circa 1923 by the Candoro Arts & Heritage Center.
Clients had the opportunity to take their new coping, mindfulness, and self-awareness tools into a social and festive setting as part of The Lily Program®, a 90-day treatment for women exclusively at Brookhaven Retreat. In alignment with Brookhaven Retreat's mission to guide women in recovery from mental health and addiction issues, clients enjoyed their time at the outing as experiential therapy. There was a Mother's Day Brunch, hula-hooping, dancing, acrobatics, art exhibits, food stands, and more.
Even during the recovery process, which at Brookhaven Retreat includes developing a well-rounded and healthy lifestyle rooted in a balance of physical, emotional, social and spiritual needs, it is important and productive to have everyday experiences.
"Recovery doesn't have to be painful, though it can be," says Brookhaven Retreat founder, Jacqueline Dawes. "Holding onto old habits and thought patterns that no longer serve you may be perceived as more comfortable at first. But if we trust the process, it's possible to realize what's on the other side of recovery, which is a life worth living as opposed to simply existing."
Outings to local educational events offer the added opportunity to learn about Tennessee, a panorama of outdoor delights including trails, waterfalls, bluffs and river gorges, and its rich historic culture.
"Tennessee is a beautiful state," adds Dawes. "There is no shortage of rejuvenating opportunities to enjoy nature. Being outside, especially in such a lush and picturesque setting helps break through anxiety, depression, and stress brought on by PTSD, addiction, bipolar disorder, bereavement, and so on. The fresh mountain air we may take for granted is especially healing for others who don't have that luxury on a daily basis. It's one of the many things women appreciate when they come to Brookhaven Retreat."
Clients purchased art supplies at Hobby Lobby to use during art therapy, which is also standard in The Lily Program, where all aspects of self are explored and exercised.
About Brookhaven Retreat
Brookhaven Retreat is a women's treatment center nestled on a naturally beautiful 48-acre site secluded in the foothills of the Great Smoky Mountains. It has helped hundreds of women across the United States overcome depression, trauma, anxiety, substance use and a range of other behavioral health challenges. Brookhaven's Founder, Jacqueline Dawes, has predicated its gender-specific treatment on "healing emotional breakage" for women. In this way, she has established a sanctuary and a place where women can feel safe, secure and cared for by a staff of highly trained professionals.