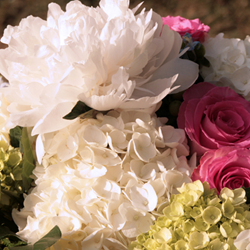 Knoxville, TN (PRWEB) June 02, 2015
Brookhaven Retreat® LLC, a unique residential treatment facility exclusively for women with emotional and mental health challenges, and/or substance abuse issues, treated clients, staff, and guests to a traditional family style barbeque on Memorial Day.
Memorial Day, a federal holiday established to honor the people who made the ultimate sacrifice while serving in the country's armed forces, is observed every year on the last Monday of May. It has evolved into the unofficial start of summer. Many families plan barbeques, picnics, and family get-togethers to coincide with the holiday's long weekend. As Brookhaven Retreat recognizes the importance of traditional summer festivities in maintaining good physical and mental health, the facility used the occasion to allow Brookhaven Retreat clients the opportunity to apply social and interpersonal communication skills learned onsite in a protected environment.
Fun activities were provided to entice the clients, staff, and guests of the facility to participate in an afternoon of physical activity and socialization. The festivities included a bounce castle, large inflatable slip and slide, and badminton court. While some visitors chose to soak up some vitamin-D by sunbathing near the garden area, others met at the gazebos to read or chat. Brookhaven Retreat staff, clients, and guests alike were treated to impromptu music provided through the musical talents of a client and her guest on the patio while waiting on lunch to be served.
Brookhaven Retreat continued the celebration with a family style barbeque lunch. Clients, staff, and guests were treated to a sampling of less conventional barbeque foods prepared by in house chefs. The menu included sweet tea brined grilled chicken, turkey burgers served on brioche bun, lentil-barley burgers, grilled vegetable antipasto, watermelon, feta and orzo salad, potato salad, grilled peaches, petit banana pudding parfaits, and patriotic red, white and blue strawberries served with Chantilly crème. Throughout the afternoon, good food and fellowship were well paired with beautiful East Tennessee weather.
About Brookhaven Retreat
Brookhaven Retreat is a women's treatment center nestled on a naturally beautiful 48-acre site secluded in the foothills of the Great Smoky Mountains. It has helped hundreds of women across the United States overcome depression, trauma, anxiety, substance use and a range of other behavioral health challenges. Brookhaven's Founder, Jacqueline Dawes, has predicated its gender-specific treatment on "healing emotional breakage" for women. In this way, she has established a sanctuary and a place where women can feel safe, secure and cared for by a staff of highly trained professionals.