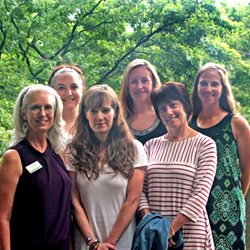 Knoxville, TN (PRWEB) July 28, 2015
Brookhaven Retreat, a unique residential treatment facility exclusively for women with mental health and/or substance abuse issues, sent staff members to a seminar, "Motivational Interviewing: Eliciting Clients' Own Arguments for Change" at Knoxville Marriott Hotel on July 20, 2015.
The workshop organized by PESI, Inc., featured Kriss Haren, MA, MS, LPCC-S, RHC III and focused on client relations in regard to motivation. PESI, Inc., a nonprofit organization, provides continuing education to professionals nationwide.
The following Brookhaven Retreat staff members learned about evidence-based strategies for six stages of change, elements of effective feedback to enhance client motivation and approaches to motivation. They are: Dana Setzer, Program Counselor and Zumba Instructor; Donita Beeler, Program Counselor; Anastasia Main, Program Counselor and Certified Nonviolent Crisis Intervention Instructor; and Kaitlyn Taylor, RN and Michelle Looser, RN.
David Rosengren, Ph.D. provided real-world examples in clinical settings, sample interactions and hands-on learning activities surrounding motivational interviewing in the workshop, "Building Motivational Interviewing Skills: A Practitioner Workbook."
Stephen Rollnick, co-founder of Motivational Interviewing (MI) with William Miller, Ph.D., presented "The Method of Motivational Interviewing with Stephen Rollnick" to talk about how and why MI is so widely used by clinicians in the treatment of mental health disorders.
Participants were instructed how to observe, clarify and utilize questions designed to explore and resolve ambivalence about change and how to recognize limitations of the righting reflex and other traps when promoting change. Dr. Rollnick, a member of the faculty at Cardiff University, Wales, presents on MI around the world to mental health and healthcare practitioners.
Jacqueline Dawes, founder of Brookhaven Retreat, which offers The Lily Program®, a 90-day program for women exclusively at Brookhaven Retreat, supports ongoing continuing education for staff members.
"Our goal is always to provide our clients with the highest quality of care," says Dawes, "which makes it necessary to keep our staff members on top of their fields. One way we accomplish that is to give them opportunities to increase their knowledge and to network with their peers and others in the business to exchange ideas and recharge their batteries."
About Brookhaven Retreat
Brookhaven Retreat is a women's treatment center nestled on a naturally beautiful 48-acre site secluded in the foothills of the Great Smoky Mountains. It has helped hundreds of women across the United States overcome depression, trauma, anxiety, substance use and a range of other behavioral health challenges. Brookhaven's Founder, Jacqueline Dawes, has predicated its gender-specific treatment on "healing emotional breakage" for women. In this way, she has established a sanctuary and a place where women can feel safe, secure and cared for by a staff of highly trained professionals.