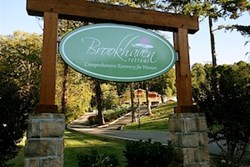 Knoxville, TN (PRWEB) November 27, 2013
On November 21, Brookhaven Retreat staff attended the International Society for the Improvement and Teaching of Dialectical Behavior Therapy conference. On November 21-24, the same staff members attended the Association of Behavior and Cognitive Therapy Convention in Nashville. Both events allow Brookhaven Retreat to expand its residential program to reflect the latest in therapeutic advances.
Dialectical behavior therapy was developed to treat borderline personality disorder and self-harming behaviors, but is effective for a wide variety of mental health issues. It teaches women the skills needed to emotionally regulate and overcome the destructive impulses associated with borderline personality disorder. Its core skills enable women to repair the emotional breakage associated with mental health issues.
The ISITDBT conference is held annually to assemble dialectical behavior therapy clinicians from around the world. At the conference, workshops and research panels share current information about the evidence base underlying the therapy technique.
This year's ABCT convention focused on a synergistic approach between various therapeutic methodologies. Speakers addressed post-traumatic stress disorder, self-harm, mood and anxiety disorders, depression, substance abuse, hoarding, disordered eating, co-occurring conditions and many other issues faced by women in Brookhaven Retreat's residential treatment program.
The four days of sessions and workshops expanded clinicians' knowledge and understanding of therapeutic approaches and enabled staff to share ideas and network with other professionals.
Brookhaven Retreat's owner and founder, Jacqueline Dawes, attended both events along with psychiatrist Dr. Ana Maria Sarasti and three other clinical staff members.
Brookhaven Retreat's residential facility offers dialectical behavior therapy woven into treatment for a wide range of mental health issues. With these skills in hand, the women in its program can recover from the devastation of emotional breakage and create healthy, stable lives.
About Brookhaven Retreat
Brookhaven Retreat is a women's treatment center nestled on a naturally beautiful 48-acre site secluded in the foothills of the Great Smoky Mountains. It has helped hundreds of women across the United States overcome depression, trauma, anxiety, substance use and a range of other behavioral health challenges. Brookhaven's Founder, Jacqueline Dawes, has predicated its gender-specific treatment on "healing emotional breakage" for women. In this way, she has established a sanctuary and a place where women can feel safe, secure and cared for by a staff of highly trained professionals.