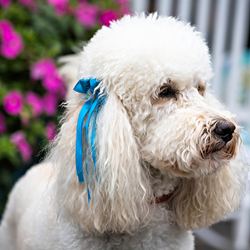 Knoxville, TN (PRWEB) August 27, 2015
Brookhaven Retreat ® LLC celebrated National Dog Day with Bella the labradoodle, the certified HABIT dog. Owned by Jacqueline Dawes, Brookhaven Retreat's founder, Bella has become quite helpful around campus, even during equine therapy.
National Dog Day was founded in 2004 by Pet & Family Lifestyle expert and animal advocate Colleen Paige, also the founder of other canine-related days of celebration.
Bella recently became registered with HABIT (Human-Animal Bond in Tennessee), a pet therapy program comprised of representatives from the University of Tennessee College of Veterinary Medicine, volunteers from the community, and private veterinary practitioners. Established in 1986, the organization fosters pet therapy in a variety of professional medical settings, such as the case with Brookhaven Retreat.
Clients of the facility have taken a shine to Bella, whose pet therapy skills have encouraged many clients to get dogs of their own after returning home.
"Some of the women here love Bella as much as I do," says Dawes, an avid animal lover. "It's very encouraging to witness the effect she has on people and her ability to calm them and make them happy at the same time. She offers unconditional love because that's what pets do. She has the power to immediately change the energy in the room and relax anyone who pets her or pays her any attention at all."
About Brookhaven Retreat
Brookhaven Retreat is a women's treatment center nestled on a naturally beautiful 48-acre site secluded in the foothills of the Great Smoky Mountains. It has helped hundreds of women across the United States overcome depression, trauma, anxiety, substance use and a range of other behavioral health challenges. Brookhaven's Founder, Jacqueline Dawes, has predicated its gender-specific treatment on "healing emotional breakage" for women. In this way, she has established a sanctuary and a place where women can feel safe, secure and cared for by a staff of highly trained professionals.