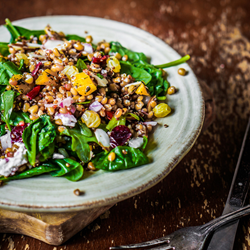 Knoxville, TN (PRWEB) June 15, 2016
Brookhaven Retreat®, LLC, a unique residential treatment facility exclusively for women with mental health and/or substance abuse issues, offers vegetarian entrees in recognition of National Fruit and Vegetable Month in June.
Celebrated each June, National Fruit and Vegetable Month, is used to promote a healthy eating style over a lifetime by adding fresh fruits and vegetables to your diet regime. According to MyPlate, a United States Department of Agriculture Food Guidance System, approximately half of your plate should be filled with fruits and vegetables for a healthy lifestyle.
During the month of June, Brookhaven Retreat offered special vegetarian entrees for clients to enjoy during National Fruit and Vegetable Month, in addition to other nutritious, and appealing food selections. Some of the selections included Portabella Mushroom Sandwich; Super Green Edamame Salad; Zucchini Pasta Noodles with Avocado Pesto Sauce; and Quinoa and Kale Salad with Berries, Avocados, and Almonds. As part of The Lily Program®, a 90-day treatment for women offered exclusively at Brookhaven Retreat, clients are encouraged to life a healthy lifestyle by eating a balanced diet. The featured menu offers a combination of grains, vegetables, fruit, dairy, protein, and oils which supplemented with a selection of healthy beverages, cheeses, fruits, nuts, yogurt, dry snacks, and rotating feature items in the dining room deli cooler.
Registered Dietician Charity Coyle and the Brookhaven Retreat Culinary Aritists lead a "Nourish and Heal" group each Wednesday afternoon. On June 22nd the group will focus on the physical and mental health benefits of adding vegetarian options to your diet, as well as a cooking demonstration on preparing Marinated Portabella Mushroom entree.
There are countless ways to improve your meals with fruits and vegetables. Below are a few tips that are promoted at Brookhaven Retreat.

Be creative with salads. Add color to your salad with carrots, strawberries, spinach, oranges, or watercress.
Baked goods are perfect for adding extra fruits. Try tossing in some apples, bananas, blueberries, or pears to your favorite muffin recipes.
Use the grill for cooking vegetables and fruits to add texture and flavor to your cookout.
About Brookhaven Retreat
Brookhaven Retreat is a women's treatment center nestled on a naturally beautiful 48-acre site secluded in the foothills of the Great Smoky Mountains. It has helped hundreds of women across the United States overcome depression, trauma, anxiety, substance use and a range of other behavioral health challenges. Brookhaven's Founder, Jacqueline Dawes, has predicated its gender-specific treatment on "healing emotional breakage" for women. In this way, she has established a sanctuary and a place where women can feel safe, secure and cared for by a staff of highly trained professionals.