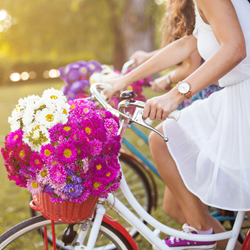 Knoxville, TN (PRWEB) August 04, 2016
Brookhaven Retreat®, LLC, a unique residential treatment facility exclusively for women with mental health and/or substance abuse issues, promoted Girlfriend's Health Tips to clients on August 1st in recognition of National Girlfriends Day.
Each year on August 1st, National Girlfriend Day is recognized throughout the United States. This is a day to embrace, celebrate, and recognize the special friendships between women, whether it is a mother, sister, aunt, coworker, or friend.
Commemorate this day by telling girlfriends how significant they are!
Along with the Center for Disease Control and Prevention (CDC), Brookhaven Retreat promotes Girlfriends' Health to client in recognition of National Girlfriend Day. On August 1st there was a special nursing group lead by Brookhaven Retreat's very own Registered Nurses, Lisa Nobles and Amber Greene. The main focus of the group was how to promote a healthy and happy lifestyle with your girlfriends.
Below are some tips that were shared during the group:

Have Healthy Options: When you are out to have fun with friends, include activities that promote moving, such as walking, dancing, or swimming. Also, make healthy food choices, such as splitting a meal with large portions, or including fruits and veggies.
Promote Prevention: Encourage girlfriends to have regular health screenings, such as annual well woman visits and physicals, and to complete regular self-exams as recommended by physician.
Support Healthy Relationships and be a Good Role Model: Set an example by caring for yourself mentally and physically. If signs of mental health or substance abuse issues arise, address the issues with friends.
Communicate and Listen: Friends talk about everything. Be a good listener and engage in the conversation. Be supportive and encouraging when they are going through a difficult time.
Lisa Nobles, Registered Nurse at Brookhaven Retreat, stated, "Promoting a healthy lifestyle in your friendships is so important to your physical and emotional health. Relationships can be supportive and encouraging even through difficult and challenging times."
About Brookhaven Retreat
Brookhaven Retreat is a women's treatment center nestled on a naturally beautiful 48-acre site secluded in the foothills of the Great Smoky Mountains. It has helped hundreds of women across the United States overcome depression, trauma, anxiety, substance use and a range of other behavioral health challenges. Brookhaven's Founder, Jacqueline Dawes, has predicated its gender-specific treatment on "healing emotional breakage" for women. In this way, she has established a sanctuary and a place where women can feel safe, secure and cared for by a staff of highly trained professionals.