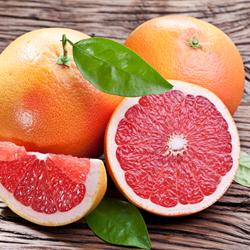 Knoxville, TN (PRWEB) February 02, 2016
Brookhaven Retreat ® LLC observes National Grapefruit Month in February by sharing information about the health benefits of grapefruit, such as that grapefruit vapors can help the body retain water such as for dehydration, stress and depression, as well as caution regarding interaction with certain prescription drugs.
According to WebMD, grapefruit has many uses in various forms, such as grapefruit seed extract, which can be applied to the skin to clear mild irritations. It can also be used as an ear or nasal rinse for preventing infections, as well as a gargle for sore throats since it is used to kill bacteria and fungus, parasites and mold.
When eaten or juiced, the following nutrients are contained, including vitamin C, fiber, potassium, and pectin, to name a few. Some components are said to also contain antioxidants to help protect cells from damage, to reduce cholesterol and aid in weight loss.
However, according to Psychology Today's post, "A Bitter Pill to Swallow: Grapefruit Juice and Medication," certain fruit and fruit juices may interfere with specific drugs' pharmacokinetics to create a food-drug interaction. "In other words, sometimes they can affect the bioavailability of a medication and may adversely interfere with blood levels, causing either lower levels of medication that are ineffective or higher levels that may be toxic," says the post by Dr. Sylvia R. Karasu. "The juice most commonly implicated is grapefruit juice, but pineapple, pomegranate, and even some kinds of orange juice have also been found to interact with medications."
"Individuals must be mindful of their medications and ask a professional if they should avoid eating or drinking certain fruits or fruit juices while taking certain prescribed drugs," says Jacqueline Dawes, founder of Brookhaven Retreat. "For those who have no issue, grapefruit is a refreshing, nutritious fruit that can be enjoyed not only in February, but year around."
About Brookhaven Retreat
Brookhaven Retreat is a women's treatment center nestled on a naturally beautiful 48-acre site secluded in the foothills of the Great Smoky Mountains. It has helped hundreds of women across the United States overcome depression, trauma, anxiety, substance use and a range of other behavioral health challenges. Brookhaven's Founder, Jacqueline Dawes, has predicated its gender-specific treatment on "healing emotional breakage" for women. In this way, she has established a sanctuary and a place where women can feel safe, secure and cared for by a staff of highly trained professionals.