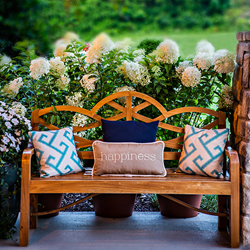 Knoxville, TN (PRWEB) August 12, 2015
Brookhaven Retreat ® LLC has been inspired to celebrate National Happiness Happens Month, instated by the Secret Society of Happy People, founded by Pamela Gail Johnson in August 1998.
Johnson, the author of The Secret Society of Happy People's Thirty-One Types of Happiness Guide and Don't Even Think of Raining on My Parade: Adventures of the Secret Society of Happy People, says, "I started the Secret Society of Happy People in 1998 to provide a missing voice for those who are happy and want to express it without having other people rain on their parade."
To celebrate the month, Johnson proposes choosing a specific activity each day that inspires happiness, such as paying it forward, donating to a thrift store, doing Sudoku or crossword puzzles, singing out loud, watching a comedy, sharing a pet photo, enjoying essential oils, reaching out to friends and loved ones you haven't spoken to recently, doing good deeds and random acts of kindness.
Brookhaven Retreat's alumnae will be met with similar and various challenges as practice in the art of mindfulness, the mental state achieved by focusing one's awareness on the present moment, as used as a therapeutic technique. Challenges will be posted on the Aftercare website for graduates of the program.
"Happiness is a choice that implies the need for action," says Brookhaven Retreat's founder, Jacqueline Dawes. "If we can learn to actively participate in our quest toward happiness, we eventually find that taking action is all there is to it. National Happiness Happens Month should be celebrated all year long, and is at our facility. It's not about waiting around for good things to happen. It's about creating that good and enjoying the process."
About Brookhaven Retreat
Brookhaven Retreat is a women's treatment center nestled on a naturally beautiful 48-acre site secluded in the foothills of the Great Smoky Mountains. It has helped hundreds of women across the United States overcome depression, trauma, anxiety, substance use and a range of other behavioral health challenges. Brookhaven's Founder, Jacqueline Dawes, has predicated its gender-specific treatment on "healing emotional breakage" for women. In this way, she has established a sanctuary and a place where women can feel safe, secure and cared for by a staff of highly trained professionals.