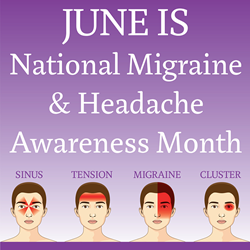 Knoxville, TN (PRWEB) June 16, 2016
Brookhaven Retreat®, LLC, a unique residential treatment facility exclusively for women with mental health and/or substance abuse issues, raises awareness for Migraine and Headache Awareness Month with a Mindfulness Session on June 14th.
Observed each June, Migraine and Headache Awareness Month, is recognized to promote support and awareness for migraine and headache advocacy, education, research, treatment, and prevention. According to the National Headache Foundation, there is approximately one migraine sufferer in every four U.S. household, this equates to as many as 45 million people suffering from chronic or severe headaches that seriously interfere with their lives.
Brookhaven Retreat recognizes the debilitating effects of suffering from migraines and headaches. As part of The Lily Program®, a 90-day treatment for women offered exclusively at Brookhaven Retreat, clients were offered a special Mindfulness Session on June 14th to promote headache prevention. The practice of mindfulness has been shown to reduce headache duration, frequency, and severity when practiced on a regular basis for just 5-10 minutes. Practicing mindfulness helps to decrease stress, which is a known common trigger for migraines and headaches. This can also help lower blood pressure, and decrease depression and anxiety.
Brookhaven Retreat's very own Licensed Bodywork Therapist, Stephanie Christian, shares her experience with meditation and headache relief and prevention. She said, "From what I know, the concept of "letting go of thought" is the most helpful for migraines in terms of mindfulness. Healing means "to make whole". Often, we may feel disconnected or even fragmented in our minds and bodies, ignoring or pushing away those parts of ourselves or experiences we find too painful or uncomfortable. When we allow our minds, hearts, and bodies to be heard and felt through non-judgmental awareness, we feel nurtured and connected, able to relieve some of that pain. I think this is why meditation relieves migraine occurrence and duration. Mindfulness becomes a form of refuge and a foundation for managing our lives and self-nurturing. It is a way that we can cultivate and honor the wholeness of our being. It is how we heal."
After the Mindfulness Session, there was a discussion on what exactly a headache is, different types of headaches, and different treatment options. Clients were encouraged to keep a headache journal over the month of June, to see how much improvement they received from practicing mindfulness. By keeping track of when headache occur, you may be able to decrease the number of headaches by avoiding triggers. Below is a list of common triggers in no particular order:

Diet
Environment
Hormones
Emotions
Activity
Medications
About Brookhaven Retreat
Brookhaven Retreat is a women's treatment center nestled on a naturally beautiful 48-acre site secluded in the foothills of the Great Smoky Mountains. It has helped hundreds of women across the United States overcome depression, trauma, anxiety, substance use and a range of other behavioral health challenges. Brookhaven's Founder, Jacqueline Dawes, has predicated its gender-specific treatment on "healing emotional breakage" for women. In this way, she has established a sanctuary and a place where women can feel safe, secure and cared for by a staff of highly trained professionals.