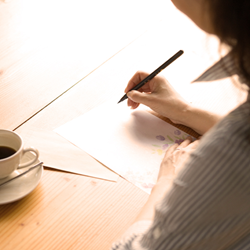 Knoxville, TN (PRWEB) December 01, 2015
Brookhaven Retreat ® LLC, a unique residential treatment facility exclusively for women with mental health and/or substance abuse issues, will participate in National Letter Writing Day by inviting clients to write letters about their favorite DBT skills to others who may not be aware of the skills or how to apply them in daily life.
Dialectical Behavior Therapy (DBT) is a cognitive behavioral treatment originally developed to treat chronically suicidal individuals diagnosed with borderline personality disorder (BPD). Currently, it is recognized as the gold standard psychological treatment for this population because research has shown that it is effective in treating a wide range of other disorders such as substance dependence, depression, post-traumatic stress disorder (PTSD), and eating disorders.
Whether or not you have mental illness, these coping skills can be adapted to situations where mindfulness is needed and can make a difference in the outcome as well as the process. Everyone can benefit from learning how to deal with stressful situations. The most important of the overall goals in DBT is helping clients create "lives worth living." What makes a life worth living varies from person to person.
Jacqueline Dawes, founder and owner of Brookhaven Retreat, says, "Everyone has different ideas about the main purpose for their lives. But what many clients have in common is the need for controlling problem behaviors, especially those that have the potential to result in physical or emotional harm to the client."
The central concept of DBT is mindfulness, which refers to living in the present, being aware of what is happening and what you are doing, observing what is going on, and participating fully in what is going on around you. Mindfulness is a skill that is practiced and learned throughout DBT.
"Living in the present grants one the ability to be more in tune with feelings, activities and what's going on in general," says Dawes.
At Brookhaven Retreat, other DBT skills besides mindfulness are taught, such as: Distress Tolerance, Emotion Regulation and Interpersonal Effectiveness.
Distress Tolerance skills are applied in situations when one is unable or unwilling to change a situation and coping and survival tactics are required. They can also help us tolerate short-term or even long-term physical or emotional pain. In order to tolerate distress, mindfulness of our breathing and awareness of our surroundings and behaviors are addressed. When an emotion needs altering, Emotion Regulation skills are applied.
Dawes adds, "Knowing how and when to apply DBT skills is what truly makes a difference in a client's experience in how she functions in a given situation. Ultimately, our goal is to help clients regain control. Writing about the skills they are most in tune with will help them clarify what's working and make the skill even more applicable and accessible in the future."
About Brookhaven Retreat
Brookhaven Retreat is a women's treatment center nestled on a naturally beautiful 48-acre site secluded in the foothills of the Great Smoky Mountains. It has helped hundreds of women across the United States overcome depression, trauma, anxiety, substance use and a range of other behavioral health challenges. Brookhaven's Founder, Jacqueline Dawes, has predicated its gender-specific treatment on "healing emotional breakage" for women. In this way, she has established a sanctuary and a place where women can feel safe, secure and cared for by a staff of highly trained professionals.