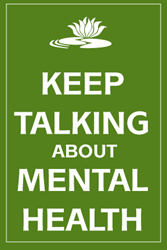 Knoxville, TN (PRWEB) May 06, 2014
Since 1949, May has been recognized as National Mental Health Month. This annual campaign strives to increase awareness, education and understanding of the importance of mental health to overall well-being.
According to the National Institute of Mental Health, roughly 26 percent of American adults, nearly one in four, suffer from diagnosable mental illnesses, which are the leading cause of disability in Canada and the United States. Forty-five percent of people with a mental health disorder are diagnosed with two or more, referred to as co-occurring disorders.
Most mental health disorders fall into two categories: mood and personality. Nearly 21 million, or roughly 9 percent, of Americans over the age of 18 have been diagnosed with a mood disorder. These consist of depressive, bipolar and anxiety disorders and commonly co-occur with one another. Eighty-five percent of people diagnosed with Borderline Personality Disorder show symptoms of other mental health illnesses.
Due to a variety of factors, women are much more likely to be diagnosed with a mood or personality disorder, but are often too afraid or ashamed to seek out help. Raising awareness on the prevalence and symptoms of mental disorders is vital in encouraging women who need help to seek help. But first women must acknowledge that it is possible to get better and live a fulfilling life.
Brookhaven Retreat's unique Lily Program® and Poncho® Program emphasize a holistic approach to recovery from mental health disorders and co-occurring substance abuse. Proven therapies including cognitive behavioral therapy, dialectical therapy, eye movement desensitization and reprocessing and group therapy, help women explore trauma and debilitating emotions. Brookhaven Retreat's treatment plan encourages a healthy diet, regular exercise and self-care to increase self-esteem and feelings of empowerment.
Mental illness can be a frightening and confusing diagnosis, but with the right treatment and understanding, women can create a life worth living. At Brookhaven Retreat, women address emotional, mental and physical wellness to fully take control of their lives.
About Brookhaven Retreat
Brookhaven Retreat is a women's treatment center nestled on a naturally beautiful 48-acre site secluded in the foothills of the Great Smoky Mountains. It has helped hundreds of women across the United States overcome depression, trauma, anxiety, substance use and a range of other behavioral health challenges. Brookhaven's Founder, Jacqueline Dawes, has predicated its gender-specific treatment on "healing emotional breakage" for women. In this way, she has established a sanctuary and a place where women can feel safe, secure and cared for by a staff of highly trained professionals.