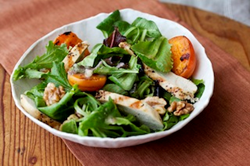 Knoxville, TN (PRWEB) March 05, 2014
Created by the Academy of Nutrition and Dietetics, the month of March is National Nutrition Month®. This campaign sets out to educate and inform people on wise nutrition choices and how to develop healthy habits. The annual theme, "Enjoy the Taste of Eating Right", focuses on finding healthy ways to combine great tastes. Brookhaven Retreat emphasizes nutrition education as an important part of the holistic recovery process.
Poor nutrition is both a symptom and a contributor to mental health issues. Depression can hinder a woman from being interested in self-care; anxiety, stress and medication side effects can lead to a decreased appetite. Understanding how nutrition affects mental well-being is crucial in treatment and recovery of mental illness. Studies have shown the absence of a fundamental healthy diet can actually worsen mental illness symptoms.
Vitamins and minerals have a significant effect on mental health. Lacking vitamins C and D, Omega-3 fatty acids and folic acid can contribute to depression. Research has shown that an increased intake of Omega-3 fatty acids improves symptoms of psychosis.
Amino acids from proteins in food form neurotransmitters serotonin and norepinephrine. These neurotransmitters can reduce depression and other mental health problems. Recent studies have shown that low levels of serotonin can lead to higher risk of suicide, as well as impulsivity and aggression.
Carbohydrates also have a major effect on mood. Too much sugar from carbohydrates can cause mood swings, depression and anxiety. Skipping meals can trigger the blood sugar to drop, leading to low mood and irritability. Eating small nutritious meals throughout the day is key to maintaining a consistent, normal blood sugar level.
Dietitians are essential in recovery from mental illness. Through education and guidance women can learn how to make informed decisions on which fats, carbohydrates and proteins to consume. A dietician can also work with them to establish meal plans, and factor in any health conditions or dietary concerns.
Proper nutrition can accelerate recovery from mental health issues. Making healthy nutrition choices can seem overwhelming for women in the beginning. Brookhaven Retreat's residential program allows women to meet individually with a registered dietitian to better focus on each woman's diet needs. Group classes also provide the opportunity for women to support each other during their journey to healthier nutritional habits.
About Brookhaven Retreat
Brookhaven Retreat is a women's treatment center nestled on a naturally beautiful 48-acre site secluded in the foothills of the Great Smoky Mountains. It has helped hundreds of women across the United States overcome depression, trauma, anxiety, substance use and a range of other behavioral health challenges. Brookhaven's Founder, Jacqueline Dawes, has predicated its gender-specific treatment on "healing emotional breakage" for women. In this way, she has established a sanctuary and a place where women can feel safe, secure and cared for by a staff of highly trained professionals.