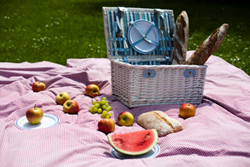 Knoxville, TN (PRWEB) July 01, 2014
The long, sunny days, warm nights and the lush outdoors make July the perfect host for National Picnic Month. Throughout July, Brookhaven Retreat celebrates the mental health benefits of spending time outdoors, enjoying friends, food and fun activities.
Anxiety, depression and addiction often interfere with a woman's social life. Feelings of shame and painful emotions may cause women to isolate from family and friends. Brookhaven Retreat educates women on the importance of self-care and social relationships in its recovery program. National Picnic Month is the ideal opportunity for women to participate in healthy habits while spending quality time with loved ones and enjoying the many benefits of the great outdoors.
A recent study in the UK reported that five minutes outside can have a positive impact on mental health. Research shows that time outdoors reduces risk of depression, and both physical activity and social interaction have the same effect. Brookhaven Retreat encourages women to spend time in nature to help boost mood, calm anxiety and support overall mental and physical wellness.
Friendships are an essential part of a woman's emotional health. Supportive friends increase self-esteem and sense of belonging while alleviating stress. A support system is a vital part of mental health recovery and offers strength when needed. Women in treatment programs are encouraged to reconnect and foster healthy relationships with friends and family. A summer picnic is the ideal opportunity to nurture these meaningful friendships.
Packing healthy snacks, natural juices and plenty of water helps keep energy levels up and avoids midday sugar crashes. Brookhaven Retreat's registered dietitian teaches women how to choose a variety of foods that have a positive impact on mental and emotional health.
With the many mental health benefits that picnics have to offer women, Brookhaven Retreat encourages women to celebrate true friendships, serene nature and mental wellness with a picnic this July.
About Brookhaven Retreat
Brookhaven Retreat is a women's treatment center nestled on a naturally beautiful 48-acre site secluded in the foothills of the Great Smoky Mountains. It has helped hundreds of women across the United States overcome depression, trauma, anxiety, substance use and a range of other behavioral health challenges. Brookhaven's Founder, Jacqueline Dawes, has predicated its gender-specific treatment on "healing emotional breakage" for women. In this way, she has established a sanctuary and a place where women can feel safe, secure and cared for by a staff of highly trained professionals.