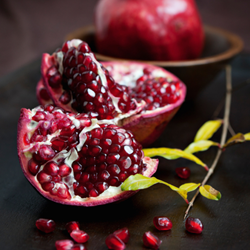 Knoxville, TN (PRWEB) November 05, 2015
Brookhaven Retreat ® LLC observes National Pomegranate Month in November. The staff will share information about the health benefits of pomegranates, a powerful antioxidant, which will also be infused into the menu, such as in salads and juices.
According the American Institute for Cancer Research, pomegranates may have more antioxidant power than cranberry juice or green tea, thanks to the polyphenols, such as tannins and anthocyanins.
It has also been indicated, according to WebMD, that people with heart disease can expect improvement in blood flow to the heart by drinking about 8 fluid ounces of pomegranate juice every day for three months. It's also shown to prevent cardiovascular plaque buildup and keep cholesterol levels in check, as well as inhibiting breast cancer and colon cancer, among others, and relieve or preventing depression and osteoporosis.
Pomegranates are gaining popularity and bottled juice is readily available in most chain grocery stores and farmer's markets. However, there is still some mystery surrounding the fruit native to North Africa and western Asia and grows on small trees, which are typically in season in the Northern Hemisphere from September to February, and in the Southern Hemisphere from March to May.
Upon cutting a pomegranate open, one may not know exactly what to do with it.
Brookhaven Retreat's Registered Dietician, Charity Coyle, RD, who graduated Carson-Newman University with a B.S. in food, nutrition and dietetics, sheds light on how to juice a pomegranate.
You will need:

Blender
Mesh strainer
Container for liquid
Spoon
Directions for juicing:
Place your pomegranate seeds in a blender.
Pulse the seeds a few times to break them apart and release their juice. Don't blend them for a long period of time, or the seeds will break apart and create cloudy juice.
Use a mesh strainer to strain the pomegranate liquid into a container.
Use the back of a spoon to push against the pomegranate pulp and extract as much juice as possible.
Chill, if desired, and enjoy.
Servings: 1 pomegranate = about 600 seeds or 1/2 cup of juice
About Brookhaven Retreat
Brookhaven Retreat is a women's treatment center nestled on a naturally beautiful 48-acre site secluded in the foothills of the Great Smoky Mountains. It has helped hundreds of women across the United States overcome depression, trauma, anxiety, substance use and a range of other behavioral health challenges. Brookhaven's Founder, Jacqueline Dawes, has predicated its gender-specific treatment on "healing emotional breakage" for women. In this way, she has established a sanctuary and a place where women can feel safe, secure and cared for by a staff of highly trained professionals.