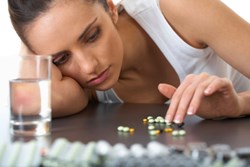 Knoxville, TN (PRWEB) September 19, 2013
September is National Recovery Month, created by the Substance Abuse and Mental Health Services Administration to promote prevention, treatment and recovery from substance abuse. This awareness month also focuses on the mental illnesses that can lead to substance abuse. In September, Brookhaven Retreat celebrates the recovery journey of women across the U.S.
The National Institute on Drug Abuse reports that 14 percent of the population uses illicit drugs. Prescription painkiller abuse has dramatically increased in the last decade. According to a Harvard Health Publication, 7 to 12 percent of women abuse alcohol. Drugs and alcohol are not the only forms of escape, and many women turn to other addictive behaviors such as shopping, cutting or promiscuity to relieve intense emotional pain.
Brookhaven Retreat believes that substance abuse and addictive behaviors are not illnesses in and of themselves. Rather, they are symptoms of an underlying mental health issue. A Columbia University study found that mood disorders, anxiety disorders and PTSD frequently co-occur with substance abuse. Women must treat the complicating causes of their dependency issues in order to find freedom from addiction.
Addiction is not a solution. Though many women experience temporary relief from symptoms of depression, PTSD or anxiety, emotional pain soon returns. Substance abuse worsens a woman's isolation, irritability and depression issues. However, because of the stigmas associated with drug use and mental health, women are often reluctant to seek help and remain in an unhealthy spiral of behaviors.
Co-occurring diagnoses treatment centers are able to address both addiction and its underlying mental health causes in order to fully treat a woman. By treating both issues simultaneously, women are able to protect themselves from the possibility of a relapse. In September, Brookhaven Retreat celebrates women's journey to recovery. An alumna has already shared her journey to recovery with the women in its program. During the rest of the month, Brookhaven Retreat will keep the spirit of hope and celebration alive as it guides women to lives of health and wellness.
About Brookhaven Retreat
Brookhaven Retreat is a women's treatment center nestled on a naturally beautiful 48-acre site secluded in the foothills of the Great Smoky Mountains. It has helped hundreds of women across the United States overcome depression, trauma, anxiety, substance use and a range of other behavioral health challenges. Brookhaven's Founder, Jacqueline Dawes, has predicated its gender-specific treatment on "healing emotional breakage" for women. In this way, she has established a sanctuary and a place where women can feel safe, secure and cared for by a staff of highly trained professionals.