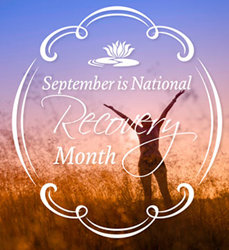 Knoxville, TN (PRWEB) August 28, 2014
September is on the horizon, and as this month approaches Brookhaven Retreat prepares to celebrate the 25th Annual National Recovery Month. Hosted by the Substance Abuse and Mental Health Services Administration, this campaign aims to educate on mental health issues and spread the knowledge that recovery is possible.
According to the National Institute of Mental Health almost 10 million American adults were diagnosed with a serious mental illness in 2012. Despite this high number, fear of judgment, responsibilities of being the caretaker, and the belief that treatment won't help often prevent healing and recovery with only 2 out of every 5 people diagnosed actually seeking help.
Brookhaven Retreat is dedicated to providing a judgment-free environment that promotes healing and understanding by allowing each woman to focus on her unique needs. By taking a holistic approach to mental wellness, each woman is able to address all aspects of her life in order to create a healthy whole.
Healing from addiction and mental illness is an ongoing journey and women who feel supported by friends and family are much more likely to maintain this lifelong recovery. Brookhaven Retreat sets each woman up with an aftercare plan that enables her to continue care once she returns home. Weekly group phone calls, a private social networking site and the annual alumnae reunion provide women with a source of support on the path to wellness.
Although struggling with mental health disorders and substance abuse issues can leave women feeling broken and disconnected from their own identity, recovery is possible. During the month of September, Brookhaven Retreat will observe National Recovery Month by supporting women throughout their recovery, reducing stigma and encouraging women to seek treatment in order to create a healthy and happy life.
About Brookhaven Retreat
Brookhaven Retreat is a women's treatment center nestled on a naturally beautiful 48-acre site secluded in the foothills of the Great Smoky Mountains. It has helped hundreds of women across the United States overcome depression, trauma, anxiety, substance use and a range of other behavioral health challenges. Brookhaven's Founder, Jacqueline Dawes, has predicated its gender-specific treatment on "healing emotional breakage" for women. In this way, she has established a sanctuary and a place where women can feel safe, secure and cared for by a staff of highly trained professionals.