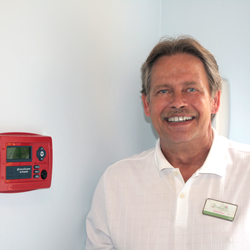 Knoxville, TN (PRWEB) June 09, 2016
Brookhaven Retreat®, LLC, a unique residential treatment facility exclusively for women with mental health and/or substance abuse issues, conducted annual fire alarm system inspection and test on June 7th in recognition of National Safety Month.
Brookhaven Retreat held its annual fire alarm system inspection and test on June 7th to ensure that all functions and components of the fire alarm system were functioning in full capacity. Risk Manager at Brookhaven Retreat, Perry Kinser, assisted during the inspection and test. Perry stated, "Being prepared in the event of an emergency is key to staying safe. Life safety is essential for your physical and mental well-being. Regular maintenance and test of your life safety systems should be done regularly not only in your workplace, but also in your home."
According to the National Fire Protection Association, "Smoke alarms are a key part of a home fire escape plan. When there is a fire, smoke spreads fast. Working smoke alarms give you early warning so you can get outside quickly." It is necessary to ensure that your home smoke alarms are installed correctly, working, and are routinely tested so that the home is the safest as possible.
In addition to the annual fire alarm system inspection and test, Brookhaven Retreat also promoted awareness with clients as part of The Lily Program®, a 90-day treatment for women offered exclusively at Brookhaven Retreat. Clients were provided tips for using smoke detectors properly in the home. Those tips included:

Smoke alarms should be placed inside and outside each bedroom and sleeping area.
Smoke alarms are needed on every level of the home and large homes need extra smoke alarms.
Test each smoke detector at least once per month.
Replace all smoke alarms when they are 10 years old.
About Brookhaven Retreat
Brookhaven Retreat is a women's treatment center nestled on a naturally beautiful 48-acre site secluded in the foothills of the Great Smoky Mountains. It has helped hundreds of women across the United States overcome depression, trauma, anxiety, substance use and a range of other behavioral health challenges. Brookhaven's Founder, Jacqueline Dawes, has predicated its gender-specific treatment on "healing emotional breakage" for women. In this way, she has established a sanctuary and a place where women can feel safe, secure and cared for by a staff of highly trained professionals.