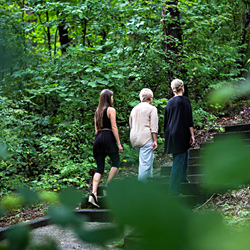 Knoxville, TN (PRWEB) April 05, 2016
Brookhaven Retreat ® LLC, a unique residential treatment facility exclusively for women with mental health and/or substance abuse issues, will celebrate the American Heart Association's National Walking Day on April 6, 2016 with a mindful walk on the nature trails on the beautifully manicured grounds in Seymour, TN.
Each year, National Walking Day is celebrated the first Wednesday in April, to kick off a month-long celebration designed to help promote activity for health and well-being. The American Heart Association (AHA) encourages participants to walk 30 minutes each day to combat heart disease and other physical problems that come with inactivity and a lack of exercise.
According to the AHA, cardiovascular disease (CVD) is the number one killer of all Americans. Every 39 seconds someone dies from CVD, which takes the lives of more women than all forms of cancer combined. Thirty minutes of exercise five times each week can help lower your risk of cardiovascular disease, type 2 diabetes and overall health of the muscles, bones and joints.
"Walking has it all," says Harvard Health Publications of Harvard Medical School. "Simple and natural, it doesn't require any instruction or skill. It can be a very modest form of exercise or it can demand enough skill and intensity to be an Olympic sport. You can walk alone for solitude or with friends for companionship. You can walk indoors on a treadmill or outside in the city or country, at home or away. You can get all the benefits of moderate exercise with a very low risk of injury. And to boot, walking is inexpensive."
Jacqueline Dawes, founder of Brookhaven Retreat, considers exercise an essential aspect of recovery and overall wellness, which explains the emphasis on physical activity in The Lily Program ®, a 90-day program for women offered exclusively at Brookhaven Retreat.
"Inactivity contributes to mental health issues," says Dawes. "Depression and anxiety can shut down a woman's motivation to exercise. But physical activity is exactly what is needed most for depression. As long as it goes untreated, problems worsen and self-care and physical needs often remain neglected, which causes other problems occur."
Daily classes at Brookhaven Retreat incorporate walks on the facility's lush and wooded nature trails. "Walking promotes other activity and mental health as well because it is an act of mindfulness," Dawes adds. "Mindfulness is being present and connected to one's surroundings. We offer many opportunities throughout the day to let go and de-stress, for both clients and staff members. We all function at a higher level that way and can accomplish our common mission of health and well-being for all."
About Brookhaven Retreat
Brookhaven Retreat is a women's treatment center nestled on a naturally beautiful 48-acre site secluded in the foothills of the Great Smoky Mountains. It has helped hundreds of women across the United States overcome depression, trauma, anxiety, substance use and a range of other behavioral health challenges. Brookhaven's Founder, Jacqueline Dawes, has predicated its gender-specific treatment on "healing emotional breakage" for women. In this way, she has established a sanctuary and a place where women can feel safe, secure and cared for by a staff of highly trained professionals.