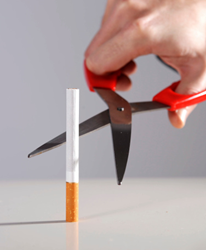 Knoxville, TN (PRWEB) May 27, 2014
Since 1987, the World Health Organization has dedicated May 31 World No Tobacco Day. This campaign advocates refraining from tobacco products for 24-hours. According to the CDC, Approximately 41.1 million Americans smoke cigarettes, and nearly 60 percent of them report being diagnosed with a mental health illness at some point in their lifetime.
The American Journal on Addictions reports that smoking rates are two to four times higher among people with mental health disorders and substance abuse issues, and that quitting rates are much lower for those with a current diagnosis or a history of mental health disorders.
There are many theories and explanations regarding why tobacco use and mental health disorders are closely linked. People struggling with overwhelming, painful emotions might turn to smoking as a way to self-medicate. Traumatic events may also play a role. Post-traumatic stress disorder has been linked to a greater risk of substance abuse including tobacco use.
The mind-body connection to wellness is extremely close. To achieve emotional wellness women must work to ensure physical wellness as well. Smoking causes major damage to physical health including raising risk of cancer, heart disease and dental problems, and reducing oxygen flow in the body. Smokers are less likely to participate in any exercise program, which is a proven way to decrease symptoms of many mental illnesses such as depression and anxiety.
Brookhaven Retreat believes in treating the root cause of any addiction, and provides tobacco cessation treatment for women who choose to quit. Women in treatment work with their primary therapist to unearth the feelings that led to addiction, and develop alternative coping skills.
Physical and mental health benefit substantially from the elimination of tobacco use. On May 31, Brookhaven Retreat encourages women to participate in reducing tobacco use to improve overall health.
About Brookhaven Retreat
Brookhaven Retreat is a women's treatment center nestled on a naturally beautiful 48-acre site secluded in the foothills of the Great Smoky Mountains. It has helped hundreds of women across the United States overcome depression, trauma, anxiety, substance use and a range of other behavioral health challenges. Brookhaven's Founder, Jacqueline Dawes, has predicated its gender-specific treatment on "healing emotional breakage" for women. In this way, she has established a sanctuary and a place where women can feel safe, secure and cared for by a staff of highly trained professionals.