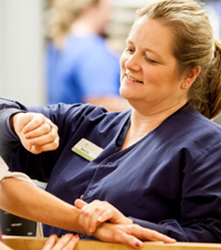 Knoxville, TN (PRWEB) May 13, 2014
National Nurse's Day is observed annually May 6 and kicks off National Nurse's Week. This day is set aside to recognize the significant impact nurses have on patient care. In May, Brookhaven Retreat celebrates the deep compassionate care each of its nurses demonstrate daily for women recovering from mental health disorders.
Nurses work closely with each woman from the moment she arrives at Brookhaven Retreat. As one of the first interactions a woman has upon arrival, the nurses build a close bond with each woman, which continues as they supervise her health and wellbeing throughout treatment. Nurses work closely with the medical director, psychiatrist and other clinical staff to oversee everything from detoxification to medication management.
Brookhaven Retreat's nurses are available 24 hours a day, seven days a week, offering the most reliable and professional treatment possible. This continual care fosters a safe environment and nurturing atmosphere for women to heal emotionally, mentally and physically.
On Tuesday, May 6, Brookhaven Retreat honored the hard work and dedication of its nurses with a luncheon to celebrate National Nurses Day. All staff gathered to thank the nurses for their contribution to the medical team, and their compassionate care that extends from the day the clients arrive to the day they discharge.
Brookhaven Retreat's nurses are some of its most dedicated employees, and many have been with Brookhaven since the opening of its facility. Brookhaven Retreat is honored to have such skilled and caring employees on staff, and looks forward to many more years with its superb nursing team.
About Brookhaven Retreat
Brookhaven Retreat is a women's treatment center nestled on a naturally beautiful 48-acre site secluded in the foothills of the Great Smoky Mountains. It has helped hundreds of women across the United States overcome depression, trauma, anxiety, substance use and a range of other behavioral health challenges. Brookhaven's Founder, Jacqueline Dawes, has predicated its gender-specific treatment on "healing emotional breakage" for women. In this way, she has established a sanctuary and a place where women can feel safe, secure and cared for by a staff of highly trained professionals.