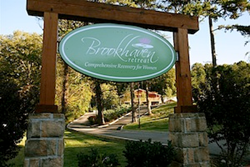 Knoxville, TN (PRWEB) November 05, 2014
Brookhaven Retreat's top consultants, Scott Migdole and Dr. Jennifer Payne hosted a four-day intensive review and training October 27-30. This longer visit allowed for both on and off-site training days, and provided an extensive overlook of Brookhaven Retreat's current policies and procedures.
The training began with an onsite visit that enabled Dr. Payne, an expert on mood disorders, to oversee the psychiatry team, discuss complex client cases, and contribute her expertise to women's mental health treatment. In addition to Dr. Payne's clinical review, Scott Migdole's following visit to Brookhaven Retreat's facility allowed a thorough analysis of internal documentation and policy training, ensuring its practice in providing the highest quality care for women.
After the consultants completed their onsite review, they led a Policy Training and Review at Blackberry Farm. The two-day review allowed for staff members from all Brookhaven Retreat departments, as well as its founder Jacqueline Dawes, to be in attendance.
Throughout the review, staff members had the opportunity to openly discuss current policies and procedures and weigh in on their practicality, effectiveness and their ongoing evolution. Such thorough analysis ensures that Brookhaven Retreat continues to offer the very best safety and care to women beginning their journey mental and emotional wellness.
Brookhaven Retreat's commitment to analyzing and reviewing policies is part of what defines it as a place of excellence and quality care. This extensive training and review ensures Brookhaven Retreat's unique place in helping women recover from mental health and substance abuse issues.
About Brookhaven Retreat
Brookhaven Retreat is a women's treatment center nestled on a naturally beautiful 48-acre site secluded in the foothills of the Great Smoky Mountains. It has helped hundreds of women across the United States overcome depression, trauma, anxiety, substance use and a range of other behavioral health challenges. Brookhaven's Founder, Jacqueline Dawes, has predicated its gender-specific treatment on "healing emotional breakage" for women. In this way, she has established a sanctuary and a place where women can feel safe, secure and cared for by a staff of highly trained professionals.