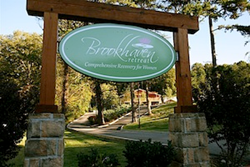 Knoxville, TN (PRWEB) April 29, 2014
April 20-27 was Opposite Action Week at Brookhaven Retreat. This week focused on teaching women to recognize and evaluate emotions and the urges that accompany them. The staff at Brookhaven Retreat incorporated this Dialectical Behavioral Therapy (DBT) skill during all of the groups and classes.
Emotions trigger biochemical responses that generate action. These are very powerful urges and are frequently completed before the emotion is even processed. This is often looked at as a survival skill, which can exhaust and devastate women in non-threatening situations. Brookhaven Retreat concentrates on teaching women how to be mindful and recognize emotions and their subsequent action urges.
During Opposite Action Week, women attended a variety of group classes each of which centered on identifying emotions and regulating the corresponding action urge. Women met with Brookhaven Retreat's registered dietitian to explore the theme "Choosing the Opposite; Health over Diets," which focuses on choosing natural, healthy eating over restrictive dieting and emotional eating.
The weekly skill is also taught by engaging creativity. During the creative expression class, women examined three goals they hoped to achieve and each step necessary to do so. Under the guidance of a program coordinator, they analyzed possible emotions and action urges during each step. By incorporating dialectical behavioral therapy into activities that are therapeutic to the body, mind and spirit, women are given the ability to holistically embody emotional regulation skills.
Each week, Brookhaven Retreat focuses on a theme that is incorporated throughout all therapeutic classes and groups. By doing so, women are able to integrate key dialectical behavior therapy skills that promote mental wellness. When a woman is no longer powerless to her own emotions and action urges, she can live a healthy and empowered life.
About Brookhaven Retreat
Brookhaven Retreat is a women's treatment center nestled on a naturally beautiful 48-acre site secluded in the foothills of the Great Smoky Mountains. It has helped hundreds of women across the United States overcome depression, trauma, anxiety, substance use and a range of other behavioral health challenges. Brookhaven's Founder, Jacqueline Dawes, has predicated its gender-specific treatment on "healing emotional breakage" for women. In this way, she has established a sanctuary and a place where women can feel safe, secure and cared for by a staff of highly trained professionals.