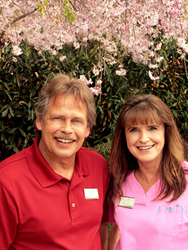 Knoxville, TN (PRWEB) April 08, 2015
Brookhaven Retreat, a treatment facility for women with mental health and/or substance abuse issues, supports all life safety aspects of care. In keeping up with health and safety standards, Brookhaven Retreat staff members attended the OSHA 2015 Compliance & Training for Medical & Dental April 1 in Knoxville, TN.
OSHA (the Occupational Safety and Health Administration), an agency of the U.S. Department of Labor, was established by Congress under the Occupational Safety and Health Act signed into law by President Richard M. Nixon in 1970. Their mission is to "assure safe and healthful working conditions for working men and women by setting and enforcing standards and by providing training, outreach, education and assistance."
According to Founder Jacqueline Dawes, staff members of Brookhaven Retreat strive to accomplish the same mission.
"We are proud to have our staff members attend OSHA's training," she says. "It's a priority for us to maintain a current handle on the latest safety procedures and standards."
Staff members including Perry Kinser, Risk Manager; Lisa Nobles, RN; and Janice Chisenhall, Lead Housekeeper, joined other medical professionals in seminars given by OSHA specialists.
Ann Bachman, CLC (AMT), MT (ASCP) and Deborah Hatcher, MS, BA, reviewed and discussed safety topics related to OSHA inspection preparation, medical records, general safety guidelines, ergonomics guidelines, training requirements, and fire and electrical safety, to name a few. Health safety such as workplace violence prevention, Hepatitis B vaccination protocol, information on emerging pathogens and more was also covered.
As Brookhaven Retreat's Risk Manager and Safety Officer, Kinser has extensive OSHA training on Compliance and Workplace Safety.
"Safety is a critical element for our clients and the entire staff at Brookhaven Retreat," says Kinser. "We take every precaution to ensure everyone understands and follows the safety procedures and codes."
About Brookhaven Retreat
Brookhaven Retreat is a women's treatment center nestled on a naturally beautiful 48-acre site secluded in the foothills of the Great Smoky Mountains. It has helped hundreds of women across the United States overcome depression, trauma, anxiety, substance use and a range of other behavioral health challenges. Brookhaven's Founder, Jacqueline Dawes, has predicated its gender-specific treatment on "healing emotional breakage" for women. In this way, she has established a sanctuary and a place where women can feel safe, secure and cared for by a staff of highly trained professionals.