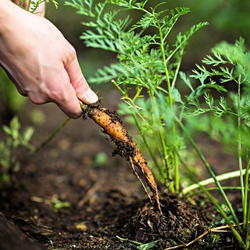 Knoxville, TN (PRWEB) June 07, 2016
Brookhaven Retreat®, LLC, a unique residential treatment facility exclusively for women with mental health and/or substance abuse issues, clients plant vegetables and learn the benefits of Garden Therapy in Honor of Outdoor Month in June as part of The Lily Program®, a 90-day treatment for women offered exclusively at Brookhaven Retreat.
During the month of June, clients are encouraged to participate in Garden Therapy as one of the many components of The Lily Program. Founder of Brookhaven Retreat, Jacqueline Dawes, recognizes the numerous benefits of not only being outdoors, but also working with the earth in the garden. She says, "Gardening is a powerful tool for wellbeing. It provides an opportunity to exercise, enjoy sunshine, release stress, and take time for oneself." Clients at Brookhaven Retreat may decide to tend to the garden as an independent or communal project. Dawes added, "Women who tend the garden feel a positive emotional reward and better realize how capable they are. Tending our serene garden is an invaluable tool for promoting the mental wellness, self-esteem and inner peace necessary to move forward during treatment."
Caring for plants also encourages mindfulness, a skill used in regulating emotions. Women at Brookhaven Retreat may also provide input about the types of plants to go into the garden, as well as the type of food that is prepared from the fruits of their labor. The garden therefore also enhances the menu at Brookhaven Retreat with fresh ingredients. Clients will plan, prepare, and plant a mix of hearty vegetables including tomatoes, bell peppers, cucumbers, and beans. Separate areas will be provided for herbs with on-site chefs using the harvest to reduce/offset the onsite carbon footprint while creating the exceptional cuisine our clients have come to expect.
About Brookhaven Retreat
Brookhaven Retreat is a women's treatment center nestled on a naturally beautiful 48-acre site secluded in the foothills of the Great Smoky Mountains. It has helped hundreds of women across the United States overcome depression, trauma, anxiety, substance use and a range of other behavioral health challenges. Brookhaven's Founder, Jacqueline Dawes, has predicated its gender-specific treatment on "healing emotional breakage" for women. In this way, she has established a sanctuary and a place where women can feel safe, secure and cared for by a staff of highly trained professionals.